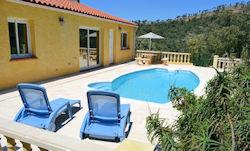 Search our current listing of long term rental properties in France that can be rented for 12 months and longer. These houses in South France are usually available for rentals all year around, including over the summer season in France.
Please check the reservation calendars for the current availability or use the search bar below to enter your rental dates to find available properties. You can refine your search by clicking on the 'Show Filters' button and selecting the number of bedrooms, bathrooms and rental property features that you require.
If you would like to make a reservation enquiry, please contact us through the contact form on the property advert page.