Haut Languedoc houses for long term rental South of France
Last updated on .
Hits: 12933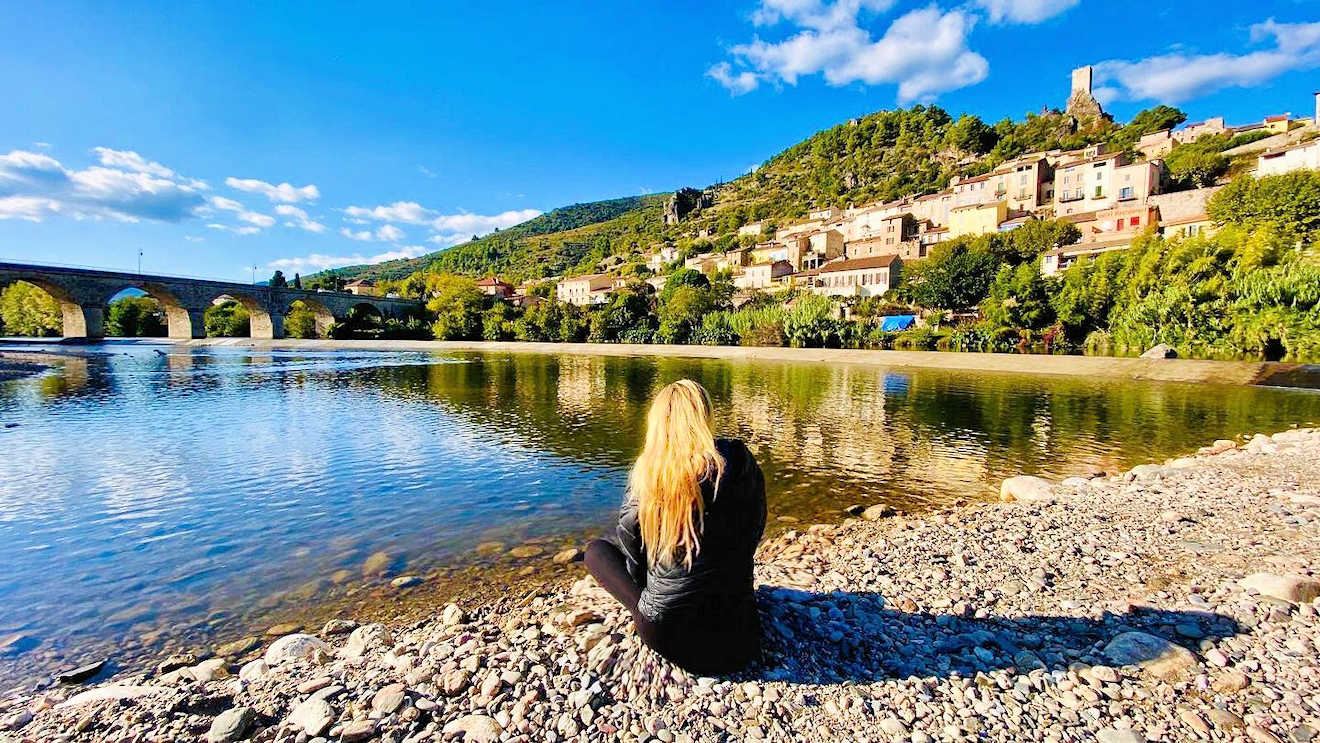 When you are looking for a quiet, rural place in France to live, with spectacular scenery and plenty of cheap houses to rent long term, then the Southern France region of Haut Languedoc is a great area to look. The Haut Languedoc Regional Park is 45 mins inland from the Mediterranean coast. The park straddles 3 French departments (Tarn, Aveyron and Herault) and was first designated an area of outstanding natural beauty in 1973. The park covers an area of over 2,500 square kilometers and is quite sparsely populated, with just over 80,000 people living inside the perimeter of the park.
Haut Languedoc is a nature lovers dream. The countryside is very green and covers variety of landscapes including lakes, valleys, mountains, rocky plateaus, vineyards and remote villages. The park incorporates the Black Mountains (Montagne Noire) and the stunning Mont-Caroux. You will also find popular fresh water lakes such as the Lac d'Avène, north-west of Lodève and the Scandinavian-looking, Lake Raviège, near La Salvetat.
Haut Languedoc, South France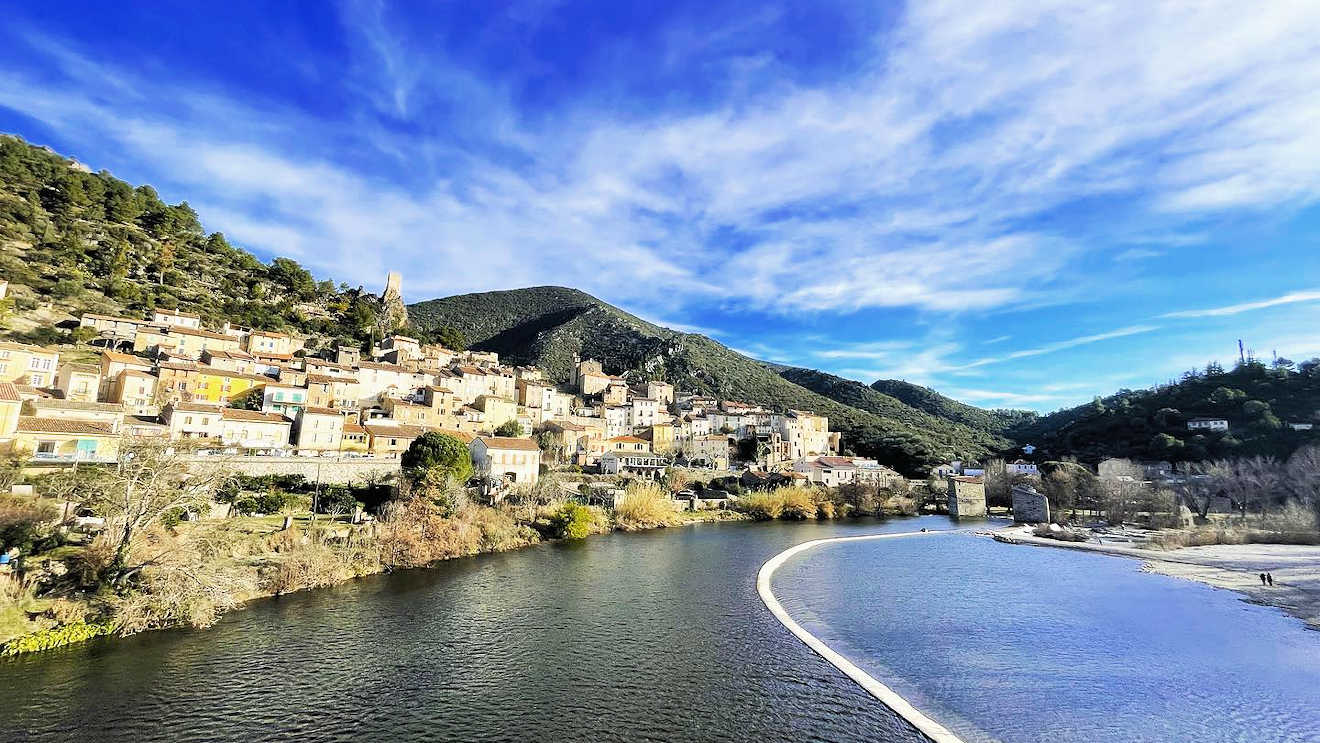 The Haut Languedoc contains over 240 species of birds (including the Bonelli eagles, which are a protected species), and is home to a variety of rare animals, including otters and the Mouflon mountain sheep. When I first moved out to the Languedoc, I picked up some occasional work for a builder called Ian McQuade. He was Big Ian and I was Little Iain. Well if you met him and saw the size of him, you would never think, that he was an avid bird watcher. It was a nightmare driving to jobs with Ian because every 5 minutes he would be stopping the van to look at the Buzzards, Kites, Harriers and Eagles. Ian reckoned Haut Languedoc was one of the best bird watching sites in Europe.
According to my cycling buddies, the Haut Languedoc has some of the best cycling trails in Europe, for both road bikes and mountain bikes. The Tour de France regularly passes through the area on the way down to the stages in the Pyrenees. There is a fantastic mountain bike trail around Lac de Salagou, near to Clermont l'Heraut. It is about 35kms in duration and the red rocks around the lake resemble the lunar landscape of Mars. There is also the popular Passa Païs cycling route through the middle of the park from Mazamet to Bédarieux. This dedicated cycling route runs along a disused railway line and you get some wonderful views of the Black Mountains along the way.
There are all manner of different hiking trails, including the Malviès trail, around the pretty village of Olargues, the 10km Ayrolle trail through the Orb valley near Roquebrun, a lovely nature trail through the waterfalls and rock pools of the Gorges d'Heric, as well as the more demanding steep climb up to the top of Mont-Caroux, from where you can enjoy the best views in Southern France.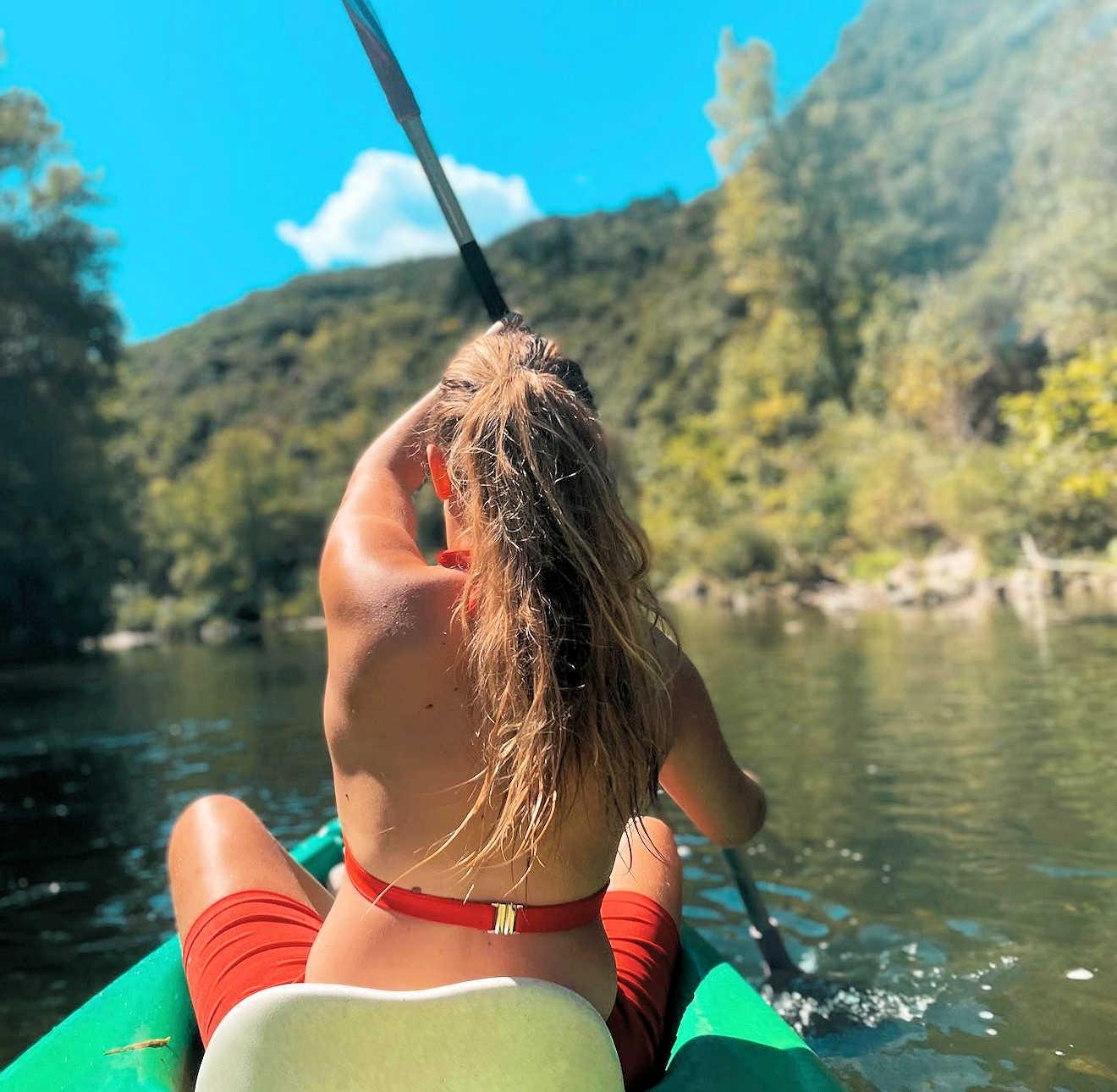 In the Haut Languedoc, you will find some great rivers for fishing and kayaking. Fishing in the abundant waters of the Agoût, Jaur or Mare rivers. The Jaur River, in between Olargues and Riols, is the perfect place for finding trout, perch and pike and the River Mare, close to the town of Herépian, is also a popular spot for fishing.
The longest river in Haut Languedoc, is the River Orb, which runs all the way down from the Avène lake in the North of the park, right down to Beziers and the Mediterranean. The river is especially beautiful, at the pretty village of Roquebrun, where you can swim beside the dam. Around Roquebrun, you will find a number of specialist Kayaking and White water rafting companies.
The popular spa town of Lamalou-les-Bains has been receiving visitors to the hot thermal baths for centuries and it still remains an important medical rehabilitation centre in France. Lamalou also has a popular golf course, parts of which sometimes get washed away in the winter by flood waters.
Rural life in Haut Languedoc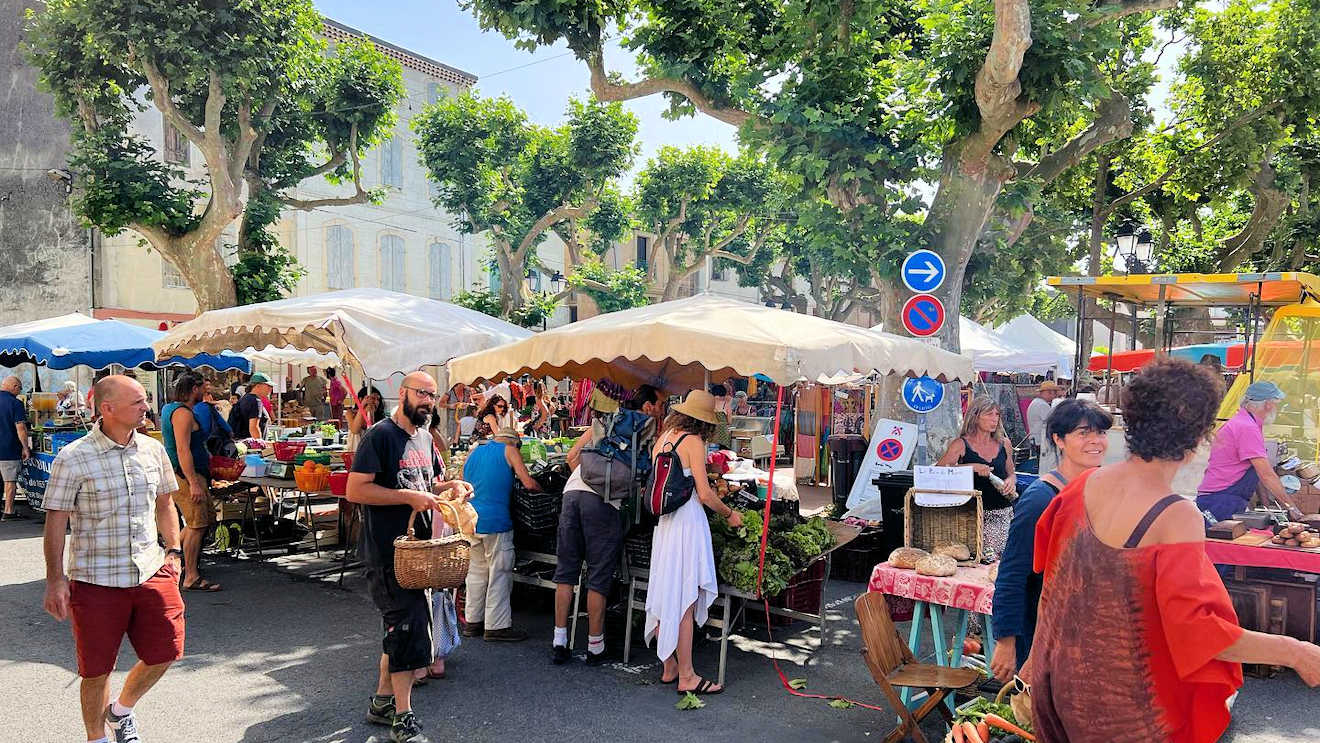 Apart from being able to enjoy the great outdoors, Haut Languedoc, also enables you to experience a relaxed French way of life. There is a strong focus on good food & wine and enjoying the natural surroundings. The pace of life here is very different and it is heavily governed by the definite seasons.
The Haut Languedoc is home to some of the best vineyards in the South of France. My personal favourite are the wines from the Faugeres region, but the red wines from St Chinian are also excellent. In the northern part of the park, you will find the Clairette du Languedoc wines - which I have to say I am not familiar with at all.
Haut Languedoc long term rentals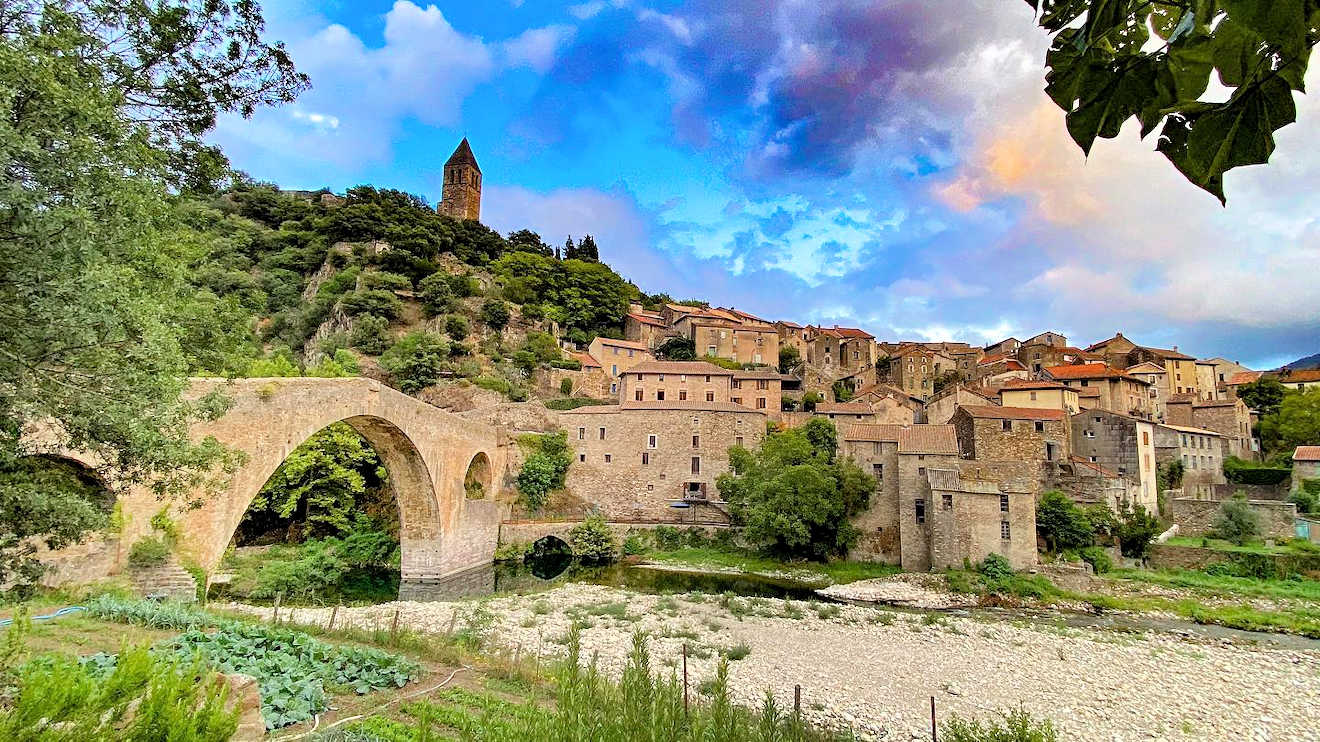 If you are looking to find a long term rental where you can experience the simple pleasures in life and an authentic Southern France way of life, then Haut Languedoc is the place for you. Below is a selection of houses currently available for long term rental in the Haut Languedoc region. Property prices tend to be much lower than on the Mediterranean coastal plain. You should certainly be able to rent a 2 bedroom cottage for around €700 per month during the winter. It is not always easy to find houses that will rent all year around. Some of the properties in the park are extremely busy from mid-July to the end of August, renting out to cyclists, walkers and a lot of French families who come here to enjoy the countryside and to escape the sweltering temperatures on the coast.
Climate-wise, during the summer months, the Haut Languedoc is a good 10 degrees cooler than where we are based (Pezenas), which is 15km from the Mediterranean. Average temperatures are around 26°C (72°F). The Spring and the Autumn are glorious, and you will enjoy plenty of clear blue skies and temperatures of around 10-15°C (50-60°F). In te winter, the temperature drops right down and you can get snow. But it is unusual for it to drop below freezing, except in north facing valleys.
In terms of places to stay, we get a lot of requests for long term rentals in and around Olargues, Gabian (near Roujan, on the edge of the Park) and Olonzac to the South. There are a couple of places that I am not particularly fussed about. After 12 years, I am still looking for the one redeeming feature of Bédarieux and although the countryside around St-Pons-de-Thomières is spectacular, the town itself reminds me of a scene from Invasion of the BodySnatchers. We know people that rave about Lamalou-les-Bains, but I have to say I have never spent much time there. The small towns of Hérépian and Lunas are ok (-ish). Saint-Jean-de-Minervois is a lovely spot, as is Roquebrun, Cessenon-sur-Orb, Cabrerolles and Villemagne-l'Argentière.
Autignac long term house rentals Southern France (Ref: 1991)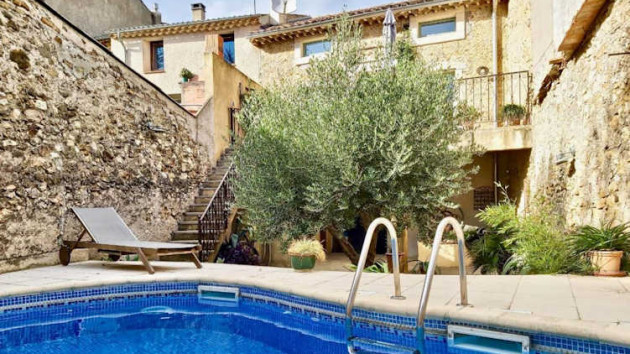 This light and spacious 4 bed house for long term rentals in Autignac, Southern France, comes with plenty of character and is within easy walking distance of the shops and services in the village. The house has been beautifully restored and features exposed stone walls, oak beams and a charming private courtyard garden with pool.
The Mediterranean beaches are only 30 minutes away and the beautiful High Languedoc National Park is only 5 minutes away.
The house features:
3 bedrooms
2 bathrooms
Large living room
Central heating
Private pool & garden
Private parking
Walking distance to bar and bakers
This villa in Autignac near Beziers, is available for long term rentals for 3-9 months. The monthly rental prices start at €1350 pcm + bills.
Les Oliviers 1 bed apartment for rent St Chinian South of France (Ref: 2069)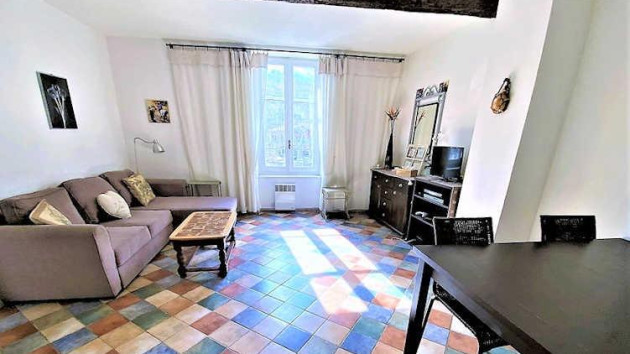 Les Oliviers apartment for rent in the famous winemaking village of Saint Chinian, South of France, provides a comfortable long term rental accommodation for a couple or single person. This spacious apartment is located on the second floor and provides 70m2 of living space. The apartment comes with exposed beams, air conditioning and fully equipped kitchen.
This well equipped apartment in the heart of the Languedoc wine region provides comfortable accommodation for a couple or single person. Saint Chinian is surrounded by beautiful countryside and it is famous throughout France for its excellent wines. There are regular buses to Beziers, which has an airport and TGV train station. The Mediterranean coast is 35 mins.
The main benefits of this apartment include:
modern, well-equipped kitchen with a breakfast table
large sunny lounge
modern kitchen
comfortable bedroom with en-suite bathroom
available for 12 month rentals
Beziers airport 25 mins drive
Available for long term rentals for up to 12 months from €700 per month + bills. Pets may be accepted through prior agreement of the Owner.
La Remise long term lets in France sleeps 2 (Ref: 1497)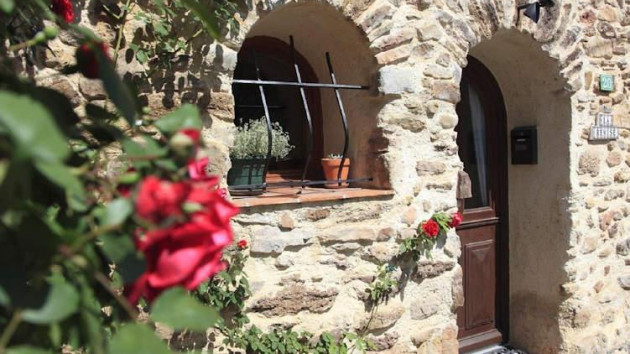 La Remise is a stunning stone cottage available for long term lets in France. The cottage provides comfortable accommodation for a couple and is ideal for house hunters or just for a long vacation. Situated amongst the vineyards in the famous Saint Chinian wine region, La Remise is located just on the outskirts of the wine producing village of Cébezan. The village dates back to 859 AD and was originally founded by Benedictine Monks. Cébezan has a population of around 500 people.
La Remise is a 2 storey stone cottage which comes with a lovely terrace, en-suite bathroom and large living room. You enter the cottage on the ground floor where you will find the open plan lounge, kitchen and dining room. The kitchen is decorated in typical French country kitchen style and it features exposed beams, original stonework and terracota tiles. The kitchen is equipped with an oven, microwave, fridge, hob, toaster and kettle. There are plenty of cooking utensils, cutlery and crockery. The dining table can easily accommodate 4 people. The lounge features a large sofa and a TV (with satellite channels) and a DVD.
Siran house to rent in France long term, sleeps 4 (Ref: 1632)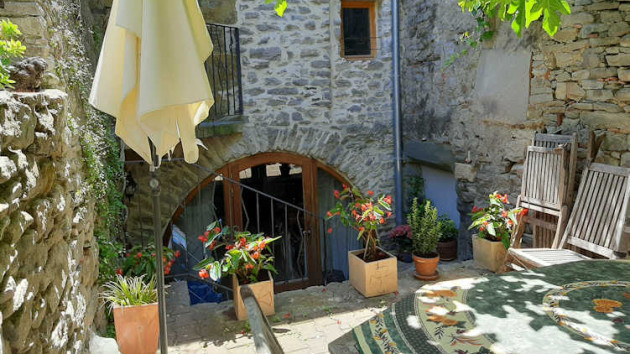 Siran is located in the heart of the Minervois wine region, producing some of the best wines in Southern France. The house is located on a quiet street in the medieval heart of Siran, a beautiful village close to Carcassonne. This well-equipped village has a bar, bistro restaurant, school, shop and library. The property comes with a beautiful cottage garden, 2 bedrooms, large lounge and kitchen-diner. The house comes with:
2 bedrooms
1 bathroom
Well-equipped kitchen
Enclosed garden
Available for 3-12 month rentals
Good Wifi connection and satellite TV
This lovely house in the Siran, France, is available for long term rentals from 3-12 months. The monthly rental price starts at €750 pcm + bills. The house is available to rent from 1 Jan 2023.
Magalas long term rentals apartment South France (Ref: 1897)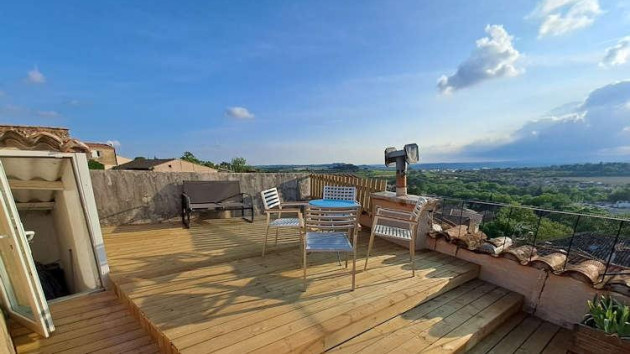 The long term rental property provides comfortable accommodation for a couple or single person. Magalas is conveniently located for either house-hunting or for exploring the sites of Languedoc Roussillon and the South of France. The accommodation is also very convenient for the beach, the Canal du Midi or visiting the mountains and countryside of the Haut Languedoc Regional park..
The apartment has an amazing private roof-top terrace, 1 bedroom and 1 bathroom. Magalas has everything you will need from a small town, including 3 supermarkets, a DIY store, pharmacy, Doctors (English-speaking) and a couple of bars. One of the best restaurants in the region is situated just around the corner.
The house comes with:
1 bedroom
1 bathroom
Spacious living room
Private roof terrace
Air conditioning (reversible)
The house can be rented on a long term basis (12 months plus) from €500 per month + bills.
Maison de la Pêche 1 bed apartment rentals South France (Ref: 1942)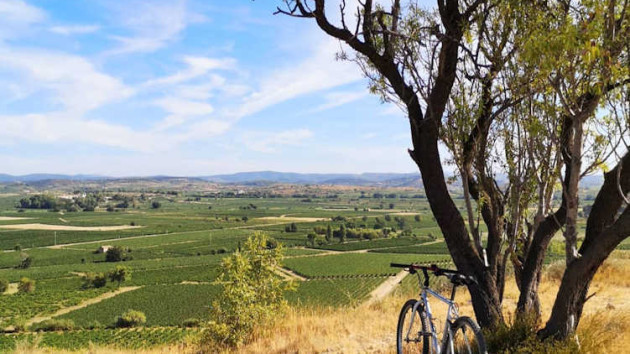 Maison de la Pêche is a cheap 1 bed apartment for rent in the South of France on a long term basis. The apartment is situated in the wine-producing village of Magalas in the Languedoc region. The apartment can be rented from €450 per month + bills.
Magalas has a good range of services, including 3 supermarkets, a DIY store, pharmacy, Doctors (English-speaking) and a couple of bars. There is a local train station at the end of the road, with services to Beziers.
The apartment comes with
1 bedroom
1 bathroom
Open plan living room with kitchenette
Easy walk to the centre of the village with a small supermarket, boulangerie, 2 bars, a restaurant, a pharmacy and a bank.
This 1 bedroom apartment is available for long term rentals of up to 12 months. The apartment is available to rent from €450 per month plus bills.
Gabian cheap long term rentals property, France (Ref: 304)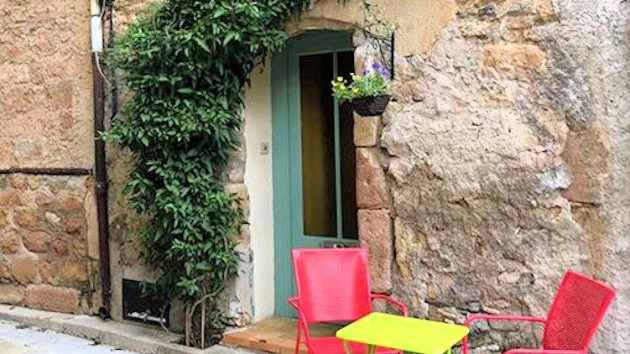 This 1 bed furnished house in Gabian, South France, is available for cheap long term rentals for 3, 6 or 12 months. The wine-making village of Gabian is 15km from Pezenas and 30 mins to the Languedoc coast. It benefits from 1 double bedrooms, large lounge, 1 bathroom and a nice kitchen. The house has kept many of it´s original features including exposed stone work and beamed ceilings. The house contains:
1 bedroom
1 bathroom
Well-equipped kitchen
Pet friendly
WiFi internet
From €450 pcm
Walking distance to boulangerie & cafe
This house is available to rent from November 2023 and the Owner will consider rental periods of 12 months+. The guide rental price is €450 pcm + bills.
Murviel les Beziers cottage long term lets in South of France (Ref: 1893)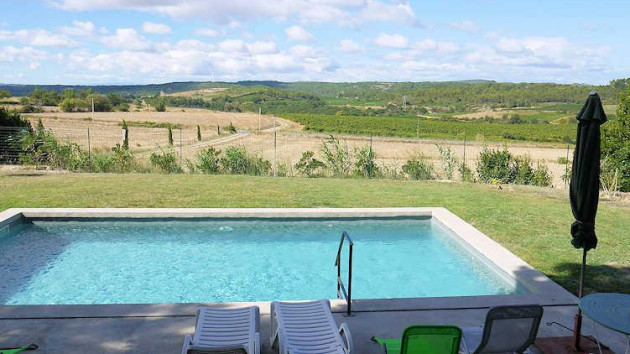 This spacious long term lets property in South France is located in a quiet rural area with stunning views of the mountain ranges of the Haut Languedoc. The area is surrounded by vineyards and countryside as far as the eye can see. The house is situated about 12 km north of Béziers and 2 km from the village Murviel-les-Béziers. This restored barn was formerly part of an active vineyard and oozes charm throughout. It sleeps up to 6 comfortably in its 3 bedrooms.
The village is situated on the edge of the Black mountains in Languedoc, 15 minutes from Beziers and the coast. The cottage is surrounded by vineyards and rolling hills, with views of the mountains in the distance.
Beziers provide all the amenities that you will need and the Mediterranean beaches are just 25mins drive away. If you are house hunting in the South of France or coming for a long stay, then this cottage for long term rentals is a good option. Convenient for a couple or a small family, the house has everything that you will need for a long term rental in France. This is a good choice if you are looking to sample rural South of France life.
Thinking of living in France . . . ?
If we have wetted your appetite about living in France, then we would be delighted to help you find the perfect property to rent. The following resources will help you find out more about the rental process in France and also further long term rental properties to consider:
Contact Iain by Email if you have any particular questions you would like to ask about living in the South of France.