Best places to buy investment property in France
Last updated on .
Hits: 14964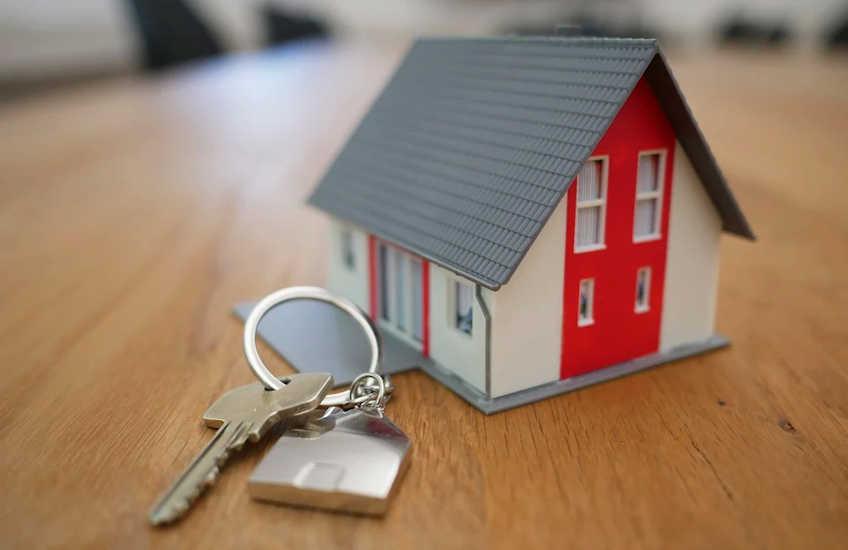 If you are looking to buy an investment property in France in 2022 and you want some advice on the best places to buy, here is a list of the 10 best locations in the South of France. I have avoided Cote d'Azur and Provence mainly because the purchase costs here are too prohibitive for investment opportunity. The market is also quite saturated and with the current state of the French economy and housing market, you do not really know which way it will turn. Suffering a 10% haircut on a €300,000 property is one thing, catching a cold on a €750,000 property is quite a different matter altogether. The rental yields are more or less the same, but what you do get in Languedoc is the exact same property of around 45% less cost.
Best places to buy investment property 2023
Well there are lots of places in the Languedoc, so I have tried to narrow it down to places that I would consider living in. My criteria in compiling this list have centered around 7 things:
is it a nice looking location;
does the village have some life (both in the summer and the winter);
is it easy to get to;
is the village an 'open' place (i.e., is it welcoming of foreigners);
is there some soul to the place - history, culture, etc;
are there plenty of things nearby to visit and experience
is there good opportunity to get a return on investment from summer holiday rentals and winter lets
#1 Best places to buy investment property France: Sete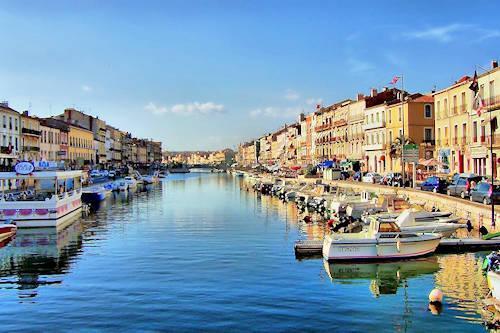 Sete is a beautiful coastal town located in between Beziers and Montpellier on the Mediterranean sea. Sete is a large port town and around the outskirts it is a bit scruffy. But the centre of Sete has a lovely network of canals and old town houses. Sete has a large percentage of Italian immigrants who have settled here over the last 2 centuries. Near to Sete there is over 20kms of golden sandy beaches along a narrow headland which separates the Mediterranean from the inland lake, the Etang du Thau. The Etang du Thau produces the best oysters and mussels in France, with many ending up in the Michelin starred restaurants in Paris. There are 4 reasons I put Sete down as the #1 place to invest in Property in France:
1. it has a mainline train link to Montpellier (less than 20 mins)
2. property prices are considerably lower in Sete than Montpellier
3. Sete has an international reputation on account of its 2 Music festivals and the summer Water Jousting festivals. These events attract thousands of visitors each year and accommodation is at a premium
4. the lovely beaches nearby will attract visitors during the summer
#2 Best places to buy investment property France: Marseillan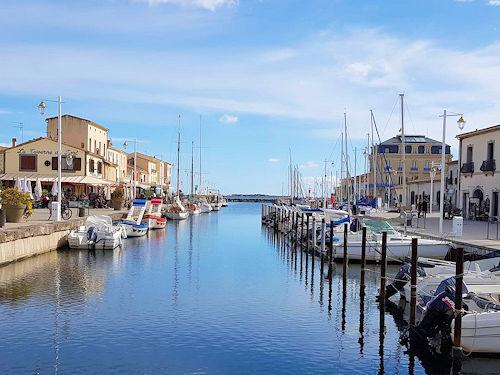 Marseillan is located on the shores of the Etang du Thau, over-looking the town of Sete. It has a lovely old port area, with lots of bars and restaurants. Marseillan is also very close to the sea, with Marseillan plage just up the road is probably one of the best beaches in Languedoc. The real estate market in Marseillan is very dynamic, with a lot of inward investment over the last 10 years. This has resulted in a lot of the old town houses being refurbished and the local town hall has invested heavily in upgrading the streets and the port area. The 'season' in Marseillan is quite long, stretching from late April through into October. Even town houses with small roof terraces manage to achieve 18 weeks rentals per year.
The main reason I would recommend Marseillan is that it is a place that always has a bit of life about it (summer and winter). We like going here in the winter for a meal (Table d'Emilie is a fantastic restaurant). We like to have a walk down by the port afterwards. Marseillan is a big place, but it has a close-knit feel about it. The Marseillans are very proud of their town. It is also the original location of the Noilly Prat distillery.
Close-by to Marseillan there is the lively seaside resort of Cap d'Agde and the city of Agde, which provideds a number of hypermarkets, big DIY stores and other services. Marseillan is the sort of place that you can get about on a bike. You can ride down to the beach or into town. There is a regular bus service from Beziers airport straight to Marseillan and there is a TGV train station in Agde.
#3 Best places to buy investment property France: Pezenas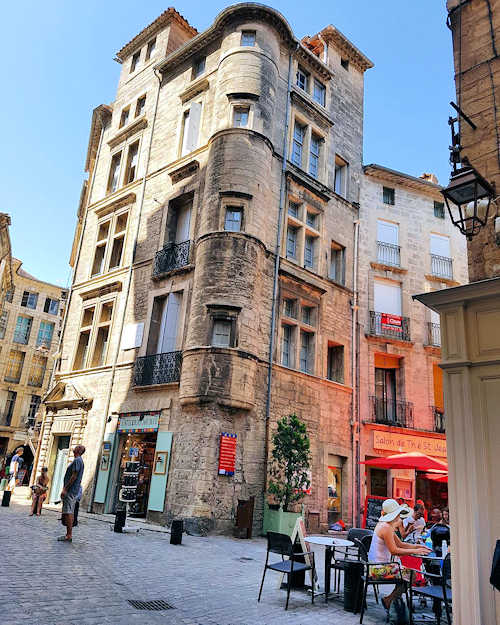 In the Languedoc, there are 5 really beautiful towns to visit: Uzes, Aigues-Mortes, Sommieres, Mirepoix and Pezenas. We live near Pezenas and we absolutely love the place. Pezenas has some beautiful old streets unchanged over the last 5 centuries. It is also an important arts centre, with many arts festivals, theatre productions and antique fairs taking place throughout the year. Pezenas is also a short drive to the coast. It is surrounded by vineyards and has excellent transport connections. Pezenas is definitely my top tip as a place to buy a house in Languedoc. Properties in Pezenas rent most of the year and if you are able to find a villa closeby with a pool, then you are almost guaranteed 12 weeks summer holiday rentals.
Pezenas has a good range of shops, supermarkets, banks, restaurants, pharmacies, etc and there is an active social scene all year around. Pezenas has a well respected wine cooperative. There is definitely a 'Pezenas premium' on house prices, but you can still pick up a property at a reasonable rate.
In my opinion, there are 4 villages surrounding Pezenas that you should also consider if you are looking for Languedoc real eastate: Caux, Tourbes, Nezignan l'Eveque and Neffies.
Caux is probably the largest village out of the 4. It has a lovely old hilltop centre (they call these villages Circulades in France on account of the circular streets that wind up the hill). There is a bar, shop, cafe and I think a restaurant in Caux. Cuax has a lovely setting, vineyards all around and close to Pezenas as well.
Nezignan L'Eveque is actually where we live, so I am biased. But, I would also point out 4 main attractions: it is just 3kms from Pezenas, a 15 mins drive to the coast, it has a gorgeous centre to the village and there is always something going on. Our local mayor, Dr Siccard, has in my opinion done a fantastic job. The village is beautifully maintained. The main street is an avenue with palm trees lining the way. The summer festivals during July are excellent. But above all, the village has a really nice feel to it. Very friendly and open. There is an excellent restaurant at the hotel and the local Pizzeria is fantastic. The local bar is a bit of a let down, but the shop is well stocked and there is also a tabac, beauty salon, boulangerie, post office and hairdresser. The houses in Nezignan l'Eveque are more expensive than other villages, but I suppose the items above explain the reason for this.
Tourbes is real up and coming village. The bar has just been taken over by new owners and they are really keen to book live bands and host art exhibitions in the upstairs room. There is also a good restaurant (La Maison) and a really good bistro at the Cave Cooperative. Like Nezignan, Tourbes is a friendly place and it is close to Pezenas as well.
Neffies is another of the Circulade villages close to Pezenas that you should consider buying in. There is a really good restaurant here and the local bar is great in the summer. There is a lovely terrace where you can look out over the rooftops and the vineyards beyond. It is not a big place, but there is still a local shop and tabac and you have Roujan just up the road which has all the shops you will need. Pezenas is just a short drive away.
#4 Best places to buy investment property France: Collioure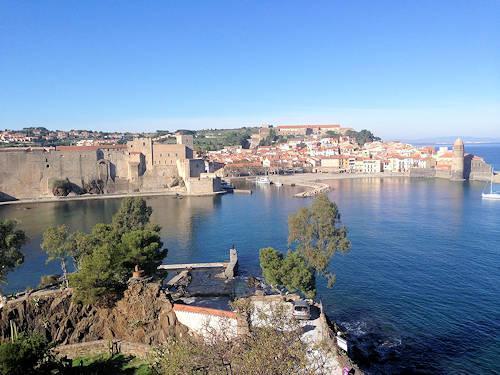 Collioure should really be higher up this list, but I get the impression that property here is a bit expensive. But there is a good reason for that. Collioure is simply beautiful and I love visiting the town - winter or summer. Collioure is a coastal town south of Perpignan. It was visited by a whole range of famous painters (Derain, Matisse, Picasso). The location of Collioure is magnificent. The sheltered harbour, the lovely mazy streets by the port, the famous church and the mountains behind; all make Collioure special.
We have a number of apartments to rent in Collioure and they are always very popular. I think if you bought in Collioure you could expect to rent out your property for 25-35 weeks a year very easily.
#5 Best places to buy investment property France: Bouzigues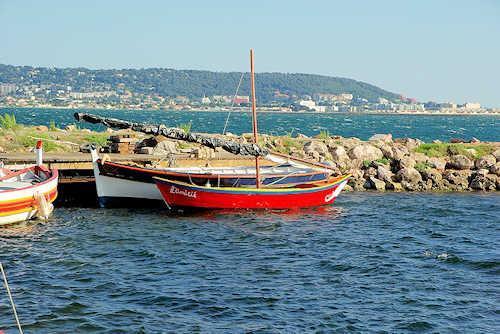 Bouzigues is coastal village located on the Etang du Thau. Bouzigues is known throughout France as the capital of oyster and mussle production. Bouzigues oysters are found in the best Parisian restaurants. The view out across the lake to the town of Sete is lovely. There are also some excellent seafood restaurants on the shoreline. There is a beach just up the road in Meze.
Bouzigues is located very close to Montpellier, just 15 km to the South of the city. Montpellier has an international airport and a brand new TGV train station. The property market in Montpellier is starting to over-heat. It is the fastest growing city in France and recently overtook Strasbourg as the 7th biggest city in France. With property prices continuing to rise above the level of affordability, outer-lying towns and villages like Bouzigues and Meze, will attract more house buyers looking for an easy commute into Montpellier.
Therefore, Bouzigues could be a smart property investment in the next 10-15 years.
#6 Best places to buy investment property France: Carcassonne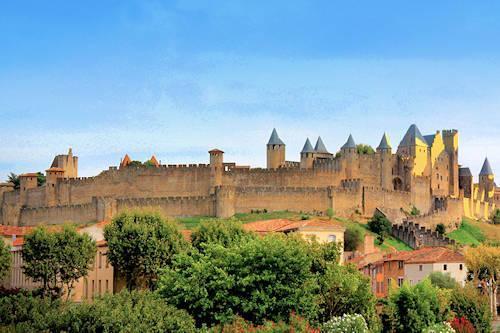 Fanjeaux is a hilltop village close to Carcassonne. We have a rental property in Fanjeaux and it rents very easily. With Carcassonne airport just 15 mins up the road, as well as the famous citadel in Carcassonne itself, Fanjeaux is a great location. The A61 autoroute provides you with quick access to both Toulouse and the coast.
The medieval market square in Mirepoix is simply stunning. Mirepoix is a bit off-the-beaten track, but there is enough going on in the town for you to not feel like you are living at the end of the earth. The countryside surrounding Mirepoix is very beautiful - more cow country than vineyards - but you do have the town of Limoux just up the road which specialises in a local Champagne (which I think is the same if not better than the real Champagne - in fact it is made in exactly the same way).
#7 Best places to buy investment property France: Uzes (St Maximin and Castillon de Gard)
St Maximin is a beautiful village located close to Uzes in the Gard department. We visited St Maximin very recently and it is a lovely old village. There is also plenty of building work going on in St Maximin with some of the old village houses being restored. There is a nice restaurant in St Maximin itself and plenty of good restaurants in the area. Uzes, is always a popular town to visit with tourists. You also have the Pont du Gard (Roman aqueduct) just down the road and Nimes is not too far away either. So all in all it is a great location to buy a house in France.
Close to Sainte-Maxime is another very pretty village called Castillon du Gard. This village has also undergone a lot of careful refurbishment in recent years and it can give you a good indication of what St Maximin will eventually look like. This is also another good spot to buy. The Pont du Gard is on your doorstep, as well as Nimes, Avignon and Uzes.
#8 Best places to buy investment property France: Perpignan & Ceret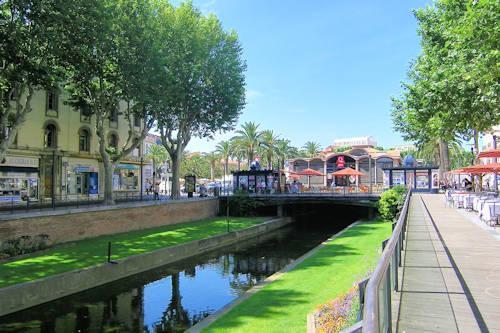 Ceret's position in the foothills of the Pyrenees, provides a dramatic back-drop to this lovely old town. For centuries the town has been famous because of it's local cherry crop (Cerise also lends its name to the town). Ceret is also the location of the Modern Art museum, on account of the many famous painters, including Picasso who have stayed in the town. The centre of Ceret has a lovely old historic quarter and the town is blessed with many excellent restaurants. In the winter, Ceret is close to the ski slopes of Font-Romeu and Les Angles. In the summer, the beaches of Argeles sur Mer and Collioure are also close at hand.
#9 Best places to buy investment property France: around Beziers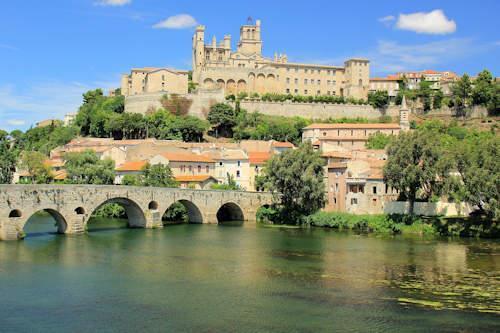 This is probably the only village I would recommend to buy in close to Beziers. There is a river running through the village and plenty of old village houses. Lieuran is a small village, but we have some friends that live here and they really like the village. It is a friendly sort of place.
I lied, there is another village near Beziers I would recommend. Serignan is located about 3 km from the coast. The town itself is a decent size and it also has a really nice modern art museum. There is a canal that runs through the edge of Serignan and you can easily cycle along the canal and then turn off up to the beach. Serignan is a good rental location for the summer weeks, because of it's proximity to the coast.
#10 Best places to buy investment property France: Sommieres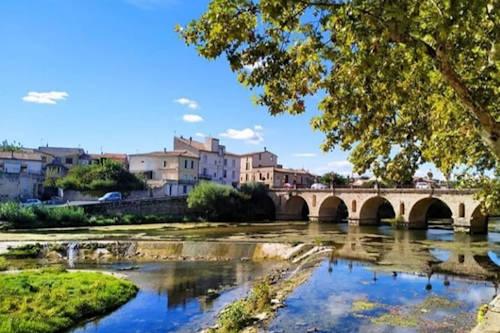 As I have said above, there are 4 standout towns in Languedoc: Pezenas, Uzes, Mirepoix and Sommieres. All are very similar in looks. Lots of narrow streets, old buildings, lots of restaurants and always full of visitors.
Sommieres is located in between Montpellier and Nimes and was featured as the setting for the film Jean de Florette.
This lovely market town was originally founded by the Romans as a look-out fort. There is a beautiful river running through Sommieres and it also has a fabulous Saturday market.
Sommieres is just 25km from Montpellier and it is a popular commuting town. The town also provides easy access to Montpellier airport and the new TGV train station built on the edge of Montpellier.
Thinking of Investing in property in France in 2023 . . . ?
If you are interested in the property market in South France, you will find more background information in the following resources. If you would like to talk to someone about your particular requirements for buying property in South France, please contact Jane Laverock on +33 6 95 50 19 21 or by email at Jane@artaxaimmo :
For more information about French house prices see House prices in France 2022
For an analysis of French mortgages see French mortgage rates 2022
If you are interested in buying property in France, you can see our full range of properties for sale in South France as provided by our business partner Artaxa Real Estate
Read about the Why you should buy a house in France
For information about a tax efficient vehicle for operating a rental property in France, please read Renting out furnished property in France.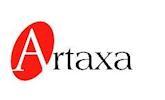 Our business partner, Artaxa Immo, is a French real estate business that specialises in helping Foreign investors buy French property. The agency is based in the beautiful wine village of Roujan and provides a property sales teams across the Languedoc region. Artaxa is a genuinely International real estate firm, employing multi-lingual staff in the three regional offices.
If you have any particular questions you would like to ask about living in the South of France, then contact Iain by Email. If you liked the article then please share it with others using the Facebook and Pinterest buttons below.