Building a new house in France: advice from an Architect
Last updated on .
Hits: 17041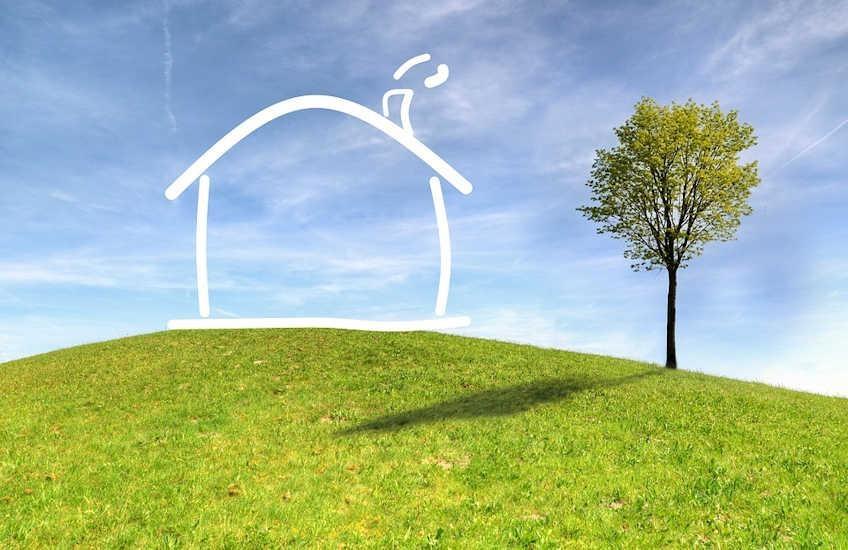 I recently had the pleasure of meeting François Brunner & Olga Sanina, widely regarded as the best young Architects in the South of France.
As award-winning Architects who run renovation and new build construction projects across Southern France, I took the opportunity to ask Olga & François some of the typical questions that we often get asked by customers who are thinking of building a house in France.
They were able to provide solid advice on why building projects often go wrong and some key factors to ensure a successful self-build in France.
As somebody who has built their own house in France, I found their perspective fascinating and a number of the issues they cited brought back memories from our own construction project. Like a lot of new build projects, our house build suffered significant overruns on the budget, the build time and we also ran into serious planning issues. We are still involved in a lengthy legal case, which has taken some 10 years to resolve. But our house is now our home in France and we wouldn't consider living any where else.
If you are planning on buying a plot of land in France to undertake a self-build project, then hopefully you will find the common-sense advice of Francois and Olga, a useful insight in how to avoid some of the pitfalls of building in France
Why build a new house in the South of France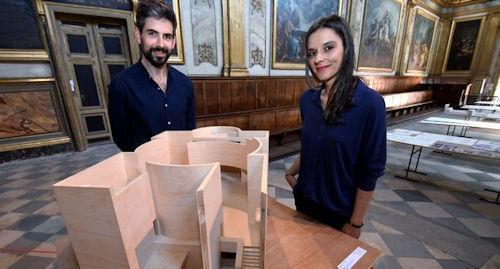 I started by asking François why the South of France is such a good area to build a house?
François: I lived in Portugal for 3 years. Before I went there I thought that France had a monopoly on beautiful architecture. But living in Lisbon and Porto really opened my eyes, to a different style of classic architecture. But since I returned to France and especially in the area of France around Carcassonne where I now live, there is this weight of history and civilisation, that you can see and feel wherever you go. A derelict Cathar castle built on an 'impossible to build' cliff top, beautiful old Mansion houses, stunning Petits Chateaux among the vineyards, Art Deco villas - it goes on and on. But more than that, it is also the little details. The ornate balconies, the little pieces of carved stonework, the elaborate wood paneling. It is impossible not to be influenced by the architecture of those who lived in this land before us.
François: France is a big country, with many sparsely populated regions. So there are always plenty of building plots available to buy - whether officially advertised or otherwise. There is also an openness to good architecture in France. It is almost in our DNA. I am not talking at a high level. I am talking about the Man in the street level. Yes we have a beautiful architectural heritage in France - or patrimone as we call it - but we are not held hostage by it. If a modern building provides a physical statement, a degree of ingenuity or innovation, it is also equally appreciated. Trust me, if you build a beautiful house in France, it will not just be your house, but it will be owned by the whole village. It is something that they will be equally proud of."
Olga: One other thing is that France is still a comparatively cheap place to build a new house in France. I am not talking just about the price of land, but what surrounds your plot of land. The views, the social life, the landscape, the old stone walls, the warm sunshine, the weekly markets, the summer festivals and the appreciation of the simple things in life: nature, friendship, fresh food in season, good wine. That is all priceless."
What are the best sources or websites for finding building land in France?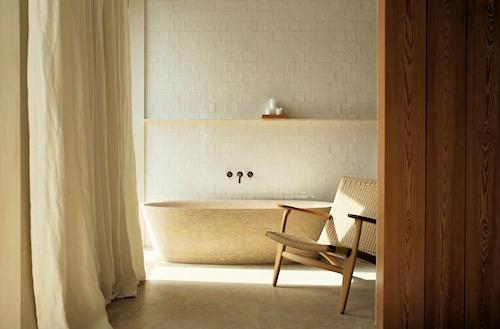 François: In France, people usually look for land on websites such as Le Bon Coin or Green-Acres. But they should also get in touch with the local Mayor or the "Service Urbanisme" of the city or the area they plan to invest. As a good tip, in our own office, we have projects ongoing that includes the division of lands for new build construction, therefore, I could also advise people to get in touch with the local architects. Also, the more you stay around and talk to neighbours, the more you get a chance to find your future land.
Olga: If you are thinking of building a house in France, I cannot stress how important it is to engage with an Architect early on in the project. This can include finding your building plot. A good architect should know the local land prices. But it is much more than that. The build costs will be heavily influenced by the land. How far is the land to the nearest services: power, water, telephone and sewage? The topography of the land will also influence what type of house you can build. The soil type will determine the type and depth of foundations. These are all hidden costs. You are talking about spending money on pipes, cabling, tubing and concrete that will be buried in the ground and never be seen again. It is all necessary work, but an Architect can help you reduce your expenditure on these items by selecting land in a good location. In some cases we could reduce the cost of supplying the Services from 40% of the budget to 20%. That is an enormous saving and can be put back into creating something extraordinary in the building.
What are the building restrictions in France?
I have a particular house design in mind, but will I be restricted by French building regulations. So for instance, can I build whatever style of house I want? A house made of shipping containers, an off-the-grid Eco house, a glass cube, etc.?
François: In France, every city has a "Plan Local d'Urbanisme", usually called PLU. This document is related to a map that organizes the land in different areas, such as "heritage city center", "industrial area", "commercial area", "natural landscapes", "agriculture lands" etc. Absolutely all the rules about the height, the type of building, what the building can be used for, the materials, the distances, the surfaces that are allowed and forbidden are all outlined in clear detail. Again, as early as possible in your project you should look to :
Meet an Architect who can advise you on the rules that apply to your land. As I have said above, I cannot stress enough how important it is to get an Architect on board with the project before you even buy the land. The architect will help you to find the good balance between your project, your budget and the potential of the land. The end result would be an application for a "Certificat d'Urbanisme" - which describes in detail what can be built on the specific piece of land and any restrictions that apply. This forms the basis of your project feasibility.
Alternatively, you could meet with the "Service Urbanisme" yourself at the local city hall or even read through the PLU document. The local planning staff are usually very helpful, but one of the secrets of building a house in France lies in the interpretation of the planning regulations. It is not something I would advise you do by yourself unless you have an advanced level of French. Also, the profession of Architecture is not just about measurements and technical calculations. It is the experience you gain from asking the right questions at the right time.
What is the planning permission process in France?
How long does it take? What happens if I make changes to the plans?
François: Any housing construction requires a "Permis de Construire" - the construction permit. According to the rules applied to your land, this will take, between 3 and 5 months before you receive the decision from the city hall, according to the situation of your land, and the specific rules that the PLU defines. If you want to change something on your project afterwards, this is not normally a problem. You can apply for a "Permis de Construire Modificatif". It will take another couple of months to be approved by the city hall.The involvement of an Architect helps to ensure that the planning application is ultimately successful.
Do I need an architect in France?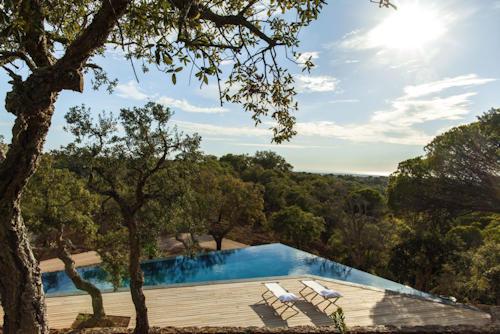 Can't I just do all this myself? Is it possible to do a self-build in France? How do I find someone to manage the project for me in France?
François: In terms of the Law in France, any construction bigger than 150sqm has to be lead by an architect. But even if you are building a house smaller than this limit, it is always a good idea to have an architect on board with the project to make sure your house respect the PLU and to ensure you won't get any nasty surprises with your budget, the timescale or the end product. I think that people sometimes misunderstand the role of an architect. We are not just about producing beautiful drawings or an amazing interior. Our role is to ensure the successful execution of the whole project: on time, on budget, on spec.
Olga: If I just give you a quick example. When I am working on a project, I download the technical specifications for all the toilets that the Client has chosen. I check that flushing mechanisms of the toilet correspond with both the local water pressure and the internal and external pipe dimensions. The reason why I do this is to ensure when the builder and plumber install the toilets, everything fits correctly. I try to eliminate any need for reworking because this is a 'dead cost'. So this shows you the level of detail I get involved with to prevent any additional costs or time delays or things not looking right because they have been 'made to fit'.
François: Overall, hiring an Architect is the sensible and safe thing to do. I would honestly caution against anybody who thinks that they can manage the project themselves. I am not saying this because I want to get more business, it is literally because without the experience of building a house, you will have no idea what to expect. You will not know what problems will emerge during the project until they arrive. The role of an Architect is to anticipate and prevent problems and safely deliver the project.
What are the average Project Management costs for a new build in France?
Olga: There is no legal limit for the cost of an architectural project, each architect has his own price. But before you make your decision to work with one or another, you should read carefully what is included in their proposal. Some of our Architects only produce the drawing plans and do not supervise the construction phase of the project - the tough part!. The way we work is that we define a project cost that will include absolutely everything. We follow a 7 step process:
1 - The First Meeting
We collect all information about urban rules, the conditions of the land for the house foundations, the infrastructure, the budget you have and the house you dream of. If you are not sure about the details, we can help you with our experience to really define the house of your dreams.
2 - The Proposal
Based on this information we draw up an "Esquisse", which is the initial plan. We produce a physical model of your house, so you can see your house 'in the flesh'. We like the project to be a collaboration with our clients and we encourage you to make suggestions, share thoughts and ideas. This is really important because it gives us an insight into how people live and where they spend their time. As an architect we zero in on where people spend their time in a building, a view they want to see, a walking route they will follow in the building, where they will entertain family and friends. In this way we can then build the house around them. This stage of the project is critical because it determines if the house fits perfectly with your expectations, your budget and the PLU.
3 - The Permis de Construire
We prepare the "Permis de Construire" to ensure that it meets all the rules of the PLU. We follow the planning application, answering any questions from the city hall until they give their final decision.
4 - The "Etudes"
Whilst the project is being approved, we develop the project in every single detail. This is an especially complex and time-intensive stage of the project. But the time we spend here, saves time and cost in the rest of the project. It also helps us to deliver the quality of the house that you want. We define both the way things will be built and the finish. We choose the materials together, according to specific samples we have requested from the suppliers. At the end of this stage, we have produce two heavy files of Graphic Elements, such as plans, sections, façades, details, partial drawings, renders, photographs, models etc. and Written Elements, such as List Of Works, List of Materials, Calendar, Proposals etc. We are now able to give you a very close price for the construction.
5 - The Building Companies
As soon as the two files are completed, and as soon as you have agreed with all the decisions they include, we start looking for building companies. We collect at least 3 proposals for all different parts of the project : structure, infra-structure, electricity, plumbing, walls, doors, windows, paintings etc... We compare the quotes and provide our opinions, but the final decision to work with one company or another has to be yours. We usually recommend to accept the quote closest to the average cost of the construction.
6 - The Construction
From the first day of construction until the very last, we follow the building construction in order to make sure that everything is done according to the project, the calendar and the budget. As an expert, we make sure things are built according to the "Bien Construire" - good building practices. As our client, we give you regular updates on the progress at each stage. We communicate when specific construction stages have been completed to the specifications and when payments can be released to the builder.
7 - Home Sweet Home
You can now enter and enjoy your new Home. You can feel the atmosphere you had seen in the models, the 3D renders and our sketches. You can enjoy the space, the functionality, the comfort, the
light and the shadows, that we could only make you imagine until now. You are happy and so are we.
What are the average building costs in France (per m2)?
Olga: This naturally depends on the level of your investment, the complexity and the location of the project. However let's divide it in 3 general categories :
Low budget : 1300€/m2 (standard cheap materials, very simple forms)
Average budget : 1500€/m2 (many details are chosen to be developed with better materials, the kitchen, the bathroom, the fireplace, the terrace...)
Good Budget : 1850€/m2 and up (middle/high quality of materials in all the project)
François: The other thing that you have to factor into the equation is the price of building land in France. The table below gives a pretty good estimate of the current prices in France for constructable land. You can see that there is a wide variation between regions. Also, within regions you will also see wide variations in the price between desirable locations and rural plots. It is simply a case of supply and demand. For the right plot of land to come up, you may need to wait several years. Generally, you are more likely to find building land come available on lotissements (small housing estates) surround villages. The advantages of these plots is that they generally come with services supplied (electricity, sewage connection, water) and local road access. But the plots themselves can be more expensive and you may find that there are local building regulations to ensure that the houses on the estate have some uniformity in style, construction materials, etc. Individual plots can be found, but you really need to be on the ground talking to local people
Average cost of Building Land in France (Per m²)
Region
Average
Lowest 25%
Median
Highest 25%
Ile de France (Paris)
€228
€167
€270
€400
Provence & Cote d'Azur
€150
€109
€188
€267
Auvergne-Rhône-Alpes
€95
€54
€106
€187
Pays de la Loire
€93
€65
€99
€156
Brittany
€87
€59
€103
€154
Grand Est
€85
€53
€115
€135
Occitanie (Languedoc)
€83
€49
€110
€216
Hauts-de-France
€77
€52
€97
€135
Nouvelle-Aquitaine
€64
€30
€76
€135
Centre-Val de Loire
€58
€36
€70
€120
Normandy
€57
€37
€66
€114
Bourgogne-Franche-Comté
€47
€28
€57
€92
Average mainland France
€87
€51
€100
€173
Source: SOeS, EPTB 2018
How do we make sure the house build doesn't go over budget ?
Olga: The only way to be sure that your project won't cost you more than expected is to spend the good amount of time on the preparation of the construction on the Etudes phase. As architects, in our office we draw, work and study every detail of the project, exactly in order to avoid the bad surprises on the construction. In my experience, the only reason for Extra-Costs is the lack of "Etudes" before.
François: If you think about it laterally, when you are building a new house you are putting €300,000, €400,000, €500,000 into the ground. So to spend this sort of money and not get a proper geometric study of the ground itself is crazy. The topography and geology of the ground not only determines what you can build, but how you build it. Clients sometimes see paying for a full Geometric study of the soil as wasted money. But it could be the most important €1500-€2000 you will spend on your house. It represents just a fraction of the build costs, yet it will be the one thing which will ensure that the house doesn't move or crack over the first 5-10 years. It could also save you money as well. Without a geometric study, an Architect will be conservative with the depths of the foundations to prevent problems. But maybe the soil condition doesn't require such deep foundations. So my advice to prevent the budget going over at the end of the project, is to spend the necessary money at the start of the project: hire an architect, order a geometric study, pay for builders to properly cost the build (and not just do a quick pro-forma estimate).
How has the recent war in Ukraine affected house building costs in France?
François: That is a very good question. On the surface you would not think that a conflict thousands of kilometres away could affect things much. But with the squeeze on energy, we are already seeing the prices of materials increasing. This is especially so for the price of steel. We work closely with a metal fabricator and he reports that if he can get any steel at all, he is left in the dark on the price. He has to order the material, but he is not given a price until he collects the steel because the prices are changing daily if not hourly. You don't realise how dependant the European market was on steel from Ukraine.
As an Architect, this is forcing us to consider other alternative (structures), such as the use of composite beams, composite pre-fabricated panels, etc., which now are becoming more equivalent in price. So yes, unfortunately, this conflict is effecting everything we do.
I want to build a really unique house in France. What are the current trends for new builds in France?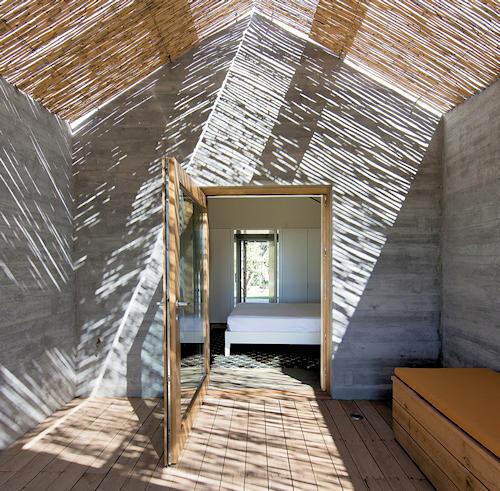 Olga: That is already a good start ! As architects we also deeply believe that every house should be unique. Unique because every family, every land, every project is different. This is actually what turns our job amazing. The needs of our clients are always the same just as they are always different. On the other hand, Architecture, by its own condition, has a very long relation with Time. Buildings lasts for decades if not centuries. Therefore, the choice of the materials and the shapes has to be timeless. For instance, in our own practice, we work with natural materials such as wood, tiles, stone, lime. We always research the traditional construction techniques of the area. By mixing this knowledge with our present needs, in terms of comfort, security and technologies we make sure our architecture approaches this timeless quality.
What advice would you give to someone contemplating a self-build in France?
François: Well there are many pieces of advice I could give them. But I think the most important comment I can make is about the timescale. Good things take time to come together. Clients often have a natural urge to move into their new home as soon as possible. This is perfectly understandable. But when you put artificial constraints onto the project, then bad things happen.
Olga: So I often hear clients saying "we want to be in by Christmas" or "this has to be finished by the summer". When you drill down into this, there is no real need for this to happen. When you put pressure on the timeline, it leads to shortcuts and can actually extend the project timeline. It is like the law of unintended consequences. So for example, when you are constructing a house, there is a natural sequence of events. If you are putting time pressure on the builder, maybe he starts to fit in jobs on you house around other work he has. But this breaks his concentration. Instead of focusing 100% on your build, he is compartmentalizing. He is thinking, we will finish this today and then I can get back to the other project. A competent builder is always thinking 3 or 4 steps ahead, and following the natural sequence. He can therefore identify opportunities to optimize the build. So by carefully planning ahead, he can reduce the need for repeated concrete deliveries to site, by grouping together similar phases of work. The time pressure breaks his concentration to really think through all the processes ahead of him. So it is counter-productive.
François: So I would advise people not to box themselves in with the project. It will take as long as it needs. This takes a lot of stress and emotion out of it. It is much more important that the budget is being kept to and the vision for the project is achieved. If it takes one or two more months to achieve this, in the grand scheme of the life of the building, this is nothing.
Olga Sanina - award winning Architect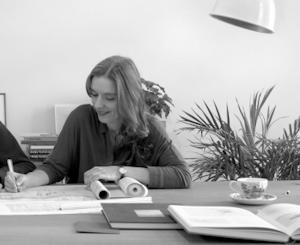 Olga was born and raised in Lisbon and studied architecture at the University of Lisbon. Olga worked for 10 years as an Architect and Project Director at the international Design Agency, Aires Mateus in Lisbon. Olga's stunning design with Marcelo Dantas of a Pavillion building at Ayntamento de Madrid, won first prize in an International design competition.
During her career, Olga has undertaken projects to redesign the interior of an Hotel & Spa resort in Prague, the conversion of an historic building in Budapest Hungary into Apartments and an Hotel and designed numerous residential buildings and modern villas.
Olga's career highlight was her role as Project Director for the construction of the fabulous new Museum of Art, Architecture and Technology in her native Lisbon, Portugal.
François Brunner - French Architect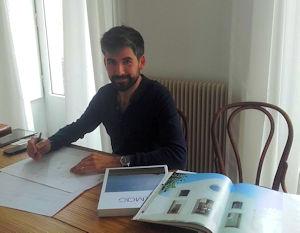 François was born and raised in the city of Toulouse in Southern France. His father was an Engineer and his mother was an Art Historian, so for him a future career as an Architect was almost programmed into him from birth. François obtained a joint degree in Architecture from Toulouse University and the University of Lisbon in Portugal. After completing his studies, François worked for several years in the award-winning international agency, Aires Mateus in Lisbon.
During his career, François has run projects ranging from renovating a Bhuddist Monestary to designing tower blocks, renovating apartment buildings, designing modern houses and managing home renovations.
You can contact François Brunner and Olga Sanina, at:
1 boulevard de Varsovie, 11000 Carcassonne, France.
Website: www.brunnersanina.com
Email: This email address is being protected from spambots. You need JavaScript enabled to view it.
Tel: +33 6 95 00 79 86 | +33 7 69 71 54 23
Building a property in France . . . ?
If you are considering investing in a property in France, then the following articles may give you some ideas on the best places to buy as well as the general trends on house prices in France and developments in the French property market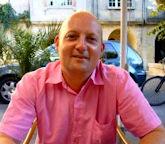 Read our article on the French property market 2022
Research the general trends and forecasts for the French economy in 2022: Investing in Property in France: the French economy 2022
Read our analysis on recent trends in house prices in France: House prices in France 2022 - continued upturn
Find out the many reasons for buying property in France: Best places to buy investment property in France
Contact Iain by Email if you have any particular questions you would like to ask about living in the South of France. If you liked the article then please share it with others using the Facebook and Pinterest buttons below.