Why you should buy a house in France in 2023
Last updated on .
Hits: 19164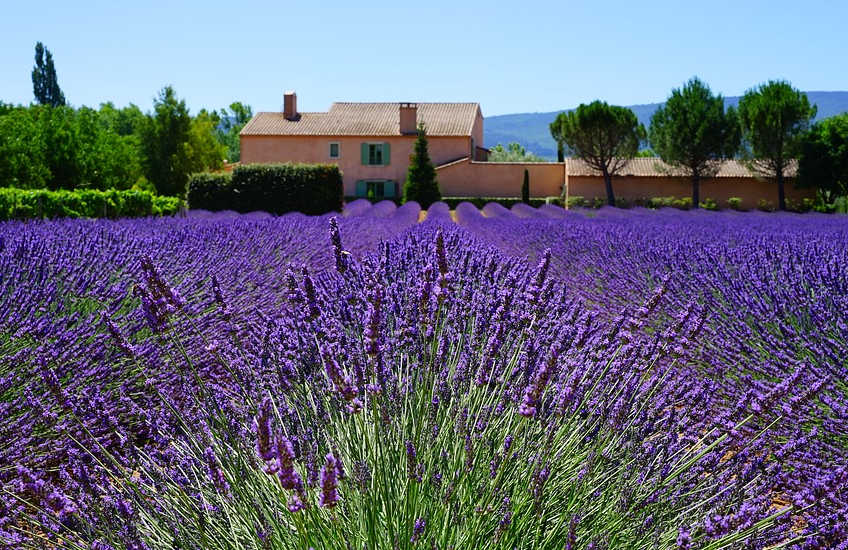 If you are looking to invest in property abroad during 2022, maybe to fund your retirement, then let me outline why I think you should consider buying a house in France. From an initial investment of €75,000-€100,000, you can own a villa in the South of France fully paid off in 15 years and what is more, when you come to retire you can pick up an annual pre-tax income of around €24,000. Too good to be true? Let me convince you otherwise.
Buying a house in France as a property investment
We have called our investment model Buy-to-Holiday-Let. This investment proposition works on 3 different levels:
Rising property prices & resilient property market - despite house prices rising by +5.8% during 2021, property prices in France are still 10% below their 2006 high-point. The French property market has proved to be remarkably resilient to the Covid-19 health crisis, with property prices forecast to continue rising by +3.5% during 2022.
High rental yields - taking advantage of the unique high rental yields in the South of France, your investment will pay off within 15 years. The South of France benefits from two different rental markets: long term winter rentals for people either house hunting or looking for some winter sun; and summer holiday rentals.
Strong demand - thirdly, the relative low supply of housing stock and the projected increase in demand flowing from the migration of Northern Europeans retiring in the South of France, the next 10 years will see a steady increase in house prices. Here is how it works.
These 3 factors combine to make the South of France the best bet for European property investors in 2022.
1. Now is the time to buy a house in France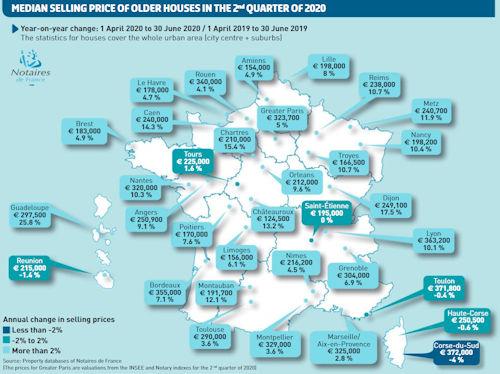 A recently published report by Standard & Poor into the European housing market for 2020-2021, predicted that house prices in France will increase by 3.5% during 2021 following a 5.8% increase during 2020. As the report states:
"We expect house prices in France to increase by 5.8% this year, and 3.5% in 2022, as households continue to benefit from low interest rates and a resilient economy bouncing back from the Covid-19 pandemic."
SOURCE: S&PGlobalratings.com
In the 12 months to April 2020, there were over 1 million houses sold in France, more than at any time since 2006. Certain French cities showed strong growth in property prices during 2020, such as Angers in Western France (+9.1%), Nancy in Eastern France (+10.4%) and Montauban in South-West France (+12.1%).
But other areas saw stagnant or decling house prices, such as Saint Etienne (0.0%) and Toulon (-0.4%)
SOURCE: www.notaires.fr
So property prices are not growing at the same rate throughout France. As a general trend, house prices in Western France have shown the strongest upsurge over the last 12 months, especially in the fast growing cities of Rennes and Nantes. But the West of France is still playing catch up with Paris and the Southern part of the country in terms of the overall value of property. Prices in Bordeaux have grown by +48% over the last 10 years. Toulouse has see an increase in house prices of +14% since 2008 and in Montpellier, property prices have grown by +4% over the same period.
By contrast, house prices in the area surrounding Brest in Normandy have fallen by -12% over the last 10 years and there has been a -5.0% decline in property prices in Rouen.
Therefore, whilst the recent increase in property prices in the South of France may appear modest, if you look at the overall long term trends, the property market here has been far more resilient to peaks and troughs in average house prices. The last decade has seen strong year-on-year growth.
Part of the reason for this lies in demographic trends. As the population of Northern Europe continues to age, a sizeable minority are predicted to choose the South of France as either a permanent or secondary retirement home.
Secondly, the continued infrastructure development of the country (such as the opening of the TGV high speed line direct to Barcelona) and the break up of Paris' monopoly on international flights, will lead to a further opening up of the South of France.
Thirdly, business investment in renewable technologies (wind and solar) and the continued growth of business hubs (Toulouse: aerospace; Montpellier: bio-tech and IT; Marseille: research & development) will continue to draw more people into the South of the country to work. As an example, Montpellier remains the fastest growing city in France and in 2020, it overtook Strasbourg as France's 7th biggest city.
Our Buy-to-Holiday-Let model is not dependent on capital appreciation in the price of the house to generate a return. We believe that the rental income is sufficient for the model to wash its face.
2. Buy a house in France: high rental yields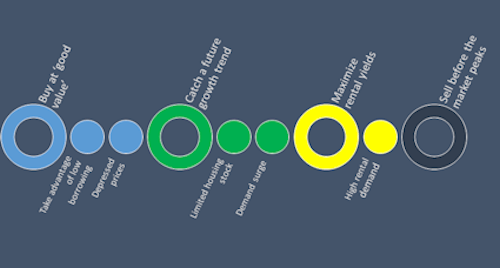 When it comes to property investment, there are a number of factors which contribute to a successful outcome. The first is to buy a French property at 'good value'. Basically, you search for property below market value (a renovation project) or buy property below the optimum market price. As we have outlined above, we believe that now is the time to consider buying a house in the South of France.
Secondly, when borrowing costs are cheap and rental yields are high, the conditions for investment are favourable. The continued low level of interest rates across the Euro Zone currently makes borrowing more attractive than saving. In June 2020, the average interest rate on outstanding housing loans in France fell to 1.5%. For new loans, the average interest rate (on fixed rate loans) continued to fall to 1.17% in September 2020.
SOURCE: INSEE
In terms of the level interest rates for 2022, analysis by Standard & Poor indicates that:
"interest rates will remain low around their current level until Q4 2020, as the ECB is not expected to raise its policy rate before the end of the year. Beyond that, we expect rate increases to be very gradual too, preventing a sharp rise of borrowing costs to households.".
SOURCE: S&PGlobalratings.com
In terms of rental yields, traditionally Property Investors have looked at the long term residential property rentals to generate a return on investment. But in France, residential rentals are sometimes problematic. Rental prices are restricted by law and rental regulations heavily favour the tenant. However, there is an overlooked niche in the market which we believe opens up the South of France to property investment.
South of France property rentals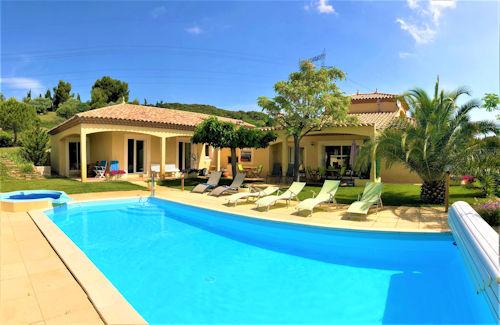 Our core business is holiday rentals and long term winter rentals. We have been involved in this market in the South of France for over 15 years and we have steadily built up a portfolio of over 500 properties for rent. Basically, we know the type of property that will get reservations and the houses that do not rent.
The magic formula boils down to:
4 bedrooms (sleeps 8 people)
Swimming pool
25 minutes maximum to the beach
Local facilities within walking distance (boulangerie, bar, restaurant)
40 minutes from an airport (served by Easyjet or Ryanair)
High-spec interior finish
So a tumble-down wreck, half-way up a mountain, may appeal as a renovation project, but it does not make a good property investment. Similarly, a cute village house with a nice roof terrace, may be ideal as a weekend bolt-hole, but you will be cut out from the family rental market.
'Old stone' farmhouses look fantastic on property listings, but they do not necessarily rent any better than modern villas and they also could quickly become maintenance 'money pits'.
| | | | |
| --- | --- | --- | --- |
| 2021 | Rental weeks | Weekly rates | Total income |
| Holiday rentals (High season) | 8 | €2,250 | €18,000 |
| Holiday rentals (Mid season) | 4 | €1,500 | €6,000 |
| Winter rentals | 24 | €300 | €7,200 |
| Sub total | | | €31,200 |
| Booking commissions | | | €1,500 |
| Property Management costs | | | €2,300 |
| Net income | | | €27,400 |
So what returns could you expect to earn if you followed our investment formula. A standard 4 bedroom French villa with pool, is currently selling at an average of just under €300,000 (£270,000) in the Languedoc region (outside of Montpellier). We discuss suitable areas to buy houses in South France in this article: Where to buy a house in France.
For this type of property, you would be expect to achieve the following level of rentals:
8 weeks of high season rentals in the Summer at an average weekly rental price of €2,250.
4 weeks of mid season rentals in May-June and September at €1,500.
In addition, you could rent out the property for long term winter rentals (October to May), for between €1,000 and €1,200 per calendar month.
Once you have paid out your costs for booking commissions, pool maintenance, gardening and changeover cleaning, you would be left with a net income of around €27,400. This represents a net rental yield of 9.1%. There are various tax schemes in France, which are very favourable to foreign property investors. With a clued-up accountant, you should expect to pay little or no tax on your rental income (see Renting out property in France (LMNP scheme) for more information)
3. Buy a house in France: return on investment
So how do you end up owning a villa in the South of France for €75,000 and paid off within 15 years? The first assumption is that you buy a house in France whilst the prices are still low. The second assumption is that you buy a house in France from the perspective of an investor, not a home-buyer. The third assumption is that you invest capital in the property (around 25% of the value) and you secure a low fixed rate mortgage deal over a 15 year period. The final assumption is that you employ professionals to manage your investment and you set-aside an annual budget of €5,000 for maintenance and upgrading. The rental market is competitive and you need to stay ahead of the field.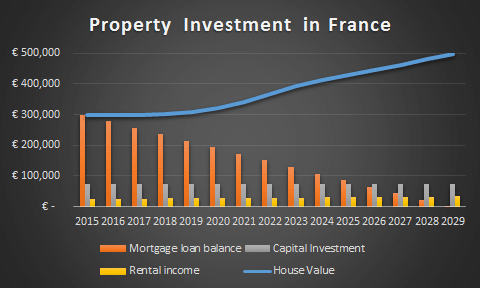 The finances basically spill out as follows:
1.) Together with taxes and fees, you should be able to purchase a suitable investment property in France for around €300,000 to €400,000.
2.) You would need to put down a deposit of between €75,000-€100,000.
3.) A 15 year fixed rate mortgage at 2.5% would cost you around €1,500 per month, €18,000 annually.
4.) Annual net rental yields of around €27,400 will comfortably cover the mortgage repayments and provide you with a sizeable budget for maintenance.
5.) After 15 years the mortgage will be paid off and at a minimum you will retain the full asset value of the property. We don't need to factor in the accumulated increases in property prices over 15 years for this model to work. But if you were to factor this in as well, the villa you purchased for €300,000 would achieve a market value of around €423,892 (with a modest average annual price increase of 2.5%) and €485,608 (at an average 3.5% annual increase).
6.) After 15 years, you either sell the property and enjoy a three-fold return on your initial capital outlay, or you retire to your villa (for the winter) and you continue to enjoy an annual income of €24,000, which you spend on summer holidays and visits to your family back in your home country.
Why you should buy a house in France
Does this sound too good to be true? Well, firstly, you need to check out the property prices and investment analysis for some houses for sale in South France (Houses for sale in France).
Secondly, you need to investigate the European mortgage rates for house purchases in France (Mortgage Finder).
Thirdly, you need to check the availability calendars and weekly rental prices for some of our holiday rental properties on Go Languedoc and the long term rentals contained here (Long term rentals in France). Our Rental calculator will also provide you with clearer examples of the expected rental returns.
I hope that this article has given you some food for thought. If you have found it of some use, please share it with others using the buttons below.