French Property: Buying a new build in France
Last updated on .
Hits: 5118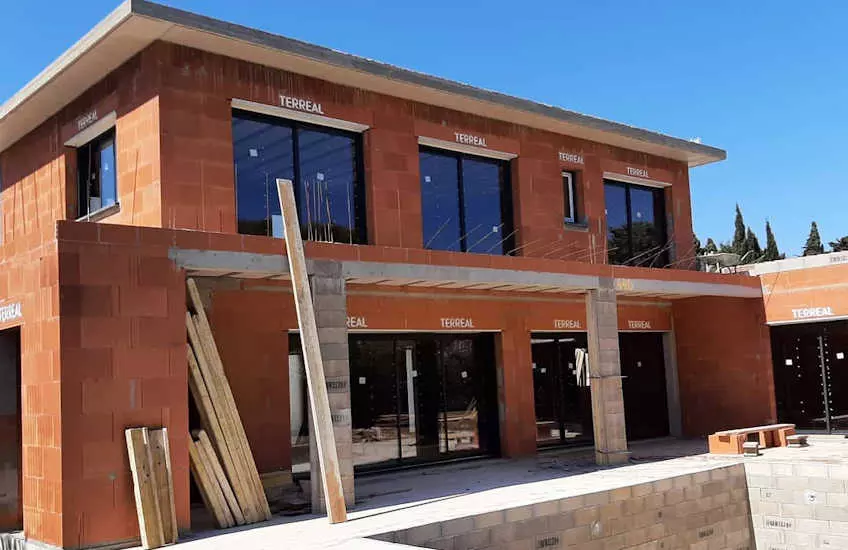 Photos courtesy of Graham Litchfield [https://www.instagram.com/building_our_house_in_france/]Buying a new build property in the South of France during 2023 is a tempting proposition. With land prices in Languedoc region still cheaper than some of its Mediterranean neighbours and plenty of houses being built, now could be the time to consider buying that villa in the South of France. With the promise of getting the house built to your exact requirements, you may think that this is the ideal solution to owning a dream house abroad. But there are some considerations you need to be aware of.
Buying your dream villa in the South of France
Buying a new-build property will normally take you longer than purchasing an existing house. Only once the building is delivered will the property become available. There are a number of different purchasing models.
The most common is that you firstly purchase the land, then you engage an architect and builder to construct the house. The French mortgage system is quite well set-up for such situations and it is possible to obtain separate mortgages for the land purchase and then the build; or you can obtain a single mortgage with a tiered payment structure. Over these months of the construction, you will be making payments towards the cost of your property.
Paddy Gibbins, Managing Director of Artaxa Real Estate in France, warns buyers to be very careful that staged payments are adhered to. He explains that it is normal in France to pay:
10% of the build cost to the builder to 'break the ground'
20% for the foundations
30% for the ground floor
30% for the first floor and roof installation
The remaining 10% is held back for the final fittings.
One would normally expect that this 10% is the builders' profit so they will be keen to make sure everything is finished off so that they walk away with some money.
"In reality, the builder takes their profit from each stage of the build, so the final portion that is left is just regarded as 'hassle money'. My advice would be to build in lower staged payments at the start and keep back a larger portion for completion and sign-off. This way you can keep more control over the builder".
Even better would be to include specific "snagging clauses" in the construction contract.
Finally, you must insist from the outset that the builder you use has a valid insurance coverage (called Assurance Decennale). Since 1978, it has been the law in France that all builders constructing houses must have a suitable insurance certificate which covers the construction for a period of 10 years. In reality, whilst most builders will say they are covered, producing the certificate maybe another thing.
Buying an off-plan house in France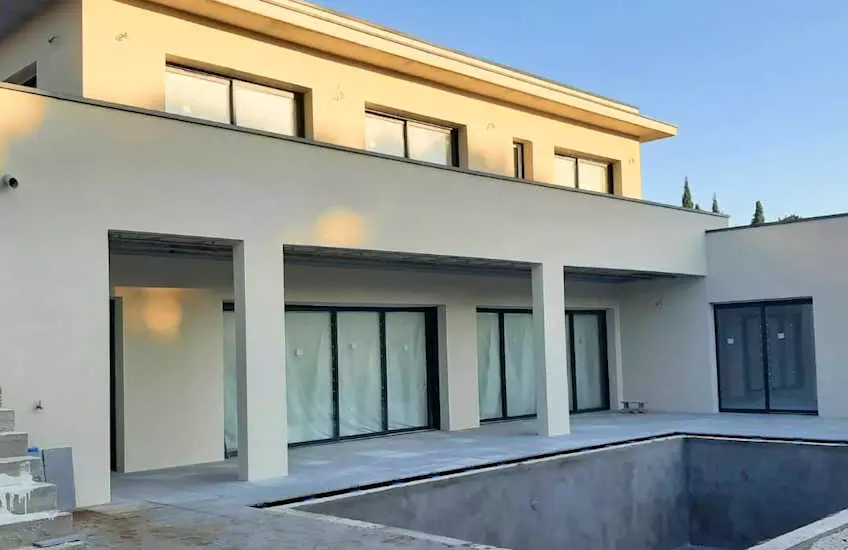 The final option is that you buy off-plan direct from the property developer who will normally employ their own builders working towards a set design for your property. Whilst this is the simplest option and the property developers themselves will be able to assist you setting up the finances, there is some hidden factors that you should be careful about.
Paddy Gibbins, cautions buyers going down the off-plan route. In particular he warns potential buyers to be aware of what is included in the build costs and what is not. As Paddy states
"most new build construction prices relate to the delivery of a completed shell of the building plus services - water, electricity, sewage".
You will obviously see lots of glossy brochures from the developer showing flamingos walking around the swimming pool and stunning high-end kitchens, but this is not what you are going to get delivered. The kitchen and bathroom fittings are often not included in the final build costs and even if they are, you need to check the quality of units that are planned to be installed. You will often find that the cheapest possible fixtures are used.
Paddy estimates that on top of the new build costs you will need to add around 20-25% for finishing the property.
New build house prices in France
The other thing that you need to consider is the longer term valuation of your new build. Paddy states that
"older properties tend to keep and maintain their value, with only slow growth in value unless there has been a spectacular refurbishment".
For new-builds however, there is a sharp increase in value up to the 10-15 year point, then the property value levels off before declining in relative terms. The reason for this is because whilst there is a limited suppy of old stone properties, for new builds, more new houses keep on entering the market each year. The newer properties are able to benefit from developments in building materials and the fixtures and furnishings are less likely to need being replaced. Therefore the long term price projection for your new build resembles a flattened upturned 'U' shape.
However, in recent years Paddy has seen a change in the French property market. He says
"it used to be the case in France that it was cheaper to build than to buy an existing property, but in recent years this has been turned on its head and due to an increase in land prices and falling property prices, it is now marginally more expensive to build than buy".
Property taxes on new build houses in France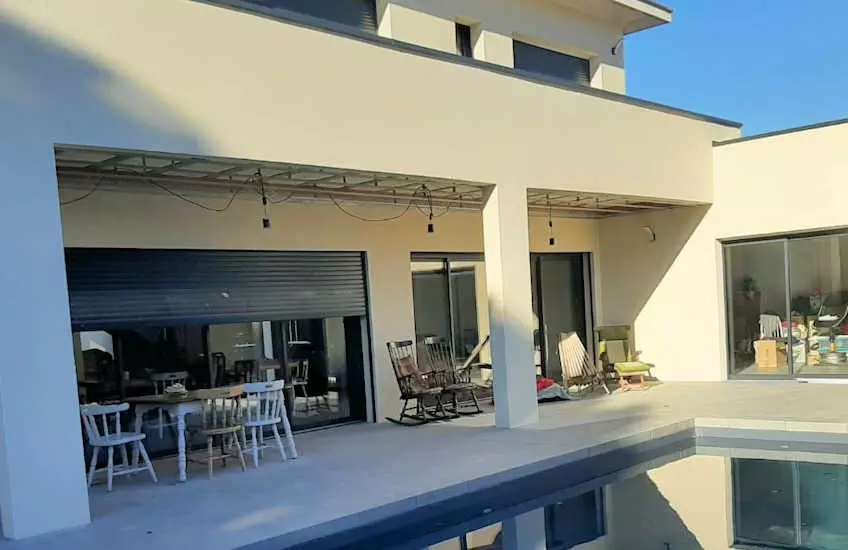 In France there are two main property taxes payable for new build purchases. In total these taxes amount to just over 20 per cent of the value of the property.
Arranging a mortgage in France for a new build
When investing in a new build home in France, there are three ways to raise the mortgage equity:
against an existing property in your country, providing there is sufficient equity;
against the French property;
a mixture of both.
Mortgage on your main property
Raising capital against your principal property (in another country) is usually the cheapest option. The mortgage funds are raised either by taking further borrowing on the current mortgage or by re-mortgaging to another lender. The fees involved are relatively small and the process is straightforward and familiar.
Taking a Mortgage on your French Property
Raising a mortgage secured against the French property allows buyers to purchase a property without putting their principal home at risk. Although the costs are higher, it is an attractive option, with historically low interest rates. There can also be tax advantages if you let out the property. This can be a bit tricky if you have no financial history in France, but the French banks are usually receptive to foreign investors. French Mortgage calculations vary between the lenders. Some banks have a higher minimum loan size or lower maximum loan value. Banks generally consider loans from between 65 to 85% of the value of the property. Generally French banks work on a principle that the total of the French mortgage plus any other borrowing or rent should not exceed a third of the buyer's gross monthly income. For most foreign investors, the bank would look for you to put down a sizeable equity deposit.
Hybrid mortgages
A final alternative is to raise money against your principal home and your French property. This is popular with purchaser who do not have large deposit in savings or people who want to keep their savings intact. Basically, the deposit and costs are raised on your principal home, limiting the amount of equity; while the difference is raised against your French property.
Thinking of buying in France in 2023 . . . ?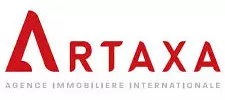 Artaxa Immo, is a French real estate business that specialises in helping Foreign investors buy French property. The agency is based in the beautiful wine village of Roujan and provides a property sales teams across the Languedoc region. Artaxa is a genuinely International real estate firm, employing multi-lingual staff in the three regional offices. For further information about buying property in South France, please contact Jane Laverock on +33 6 95 50 19 21 or by email at Jane Laverock.