French property market 2023: remaining strong despite the challenges
Last updated on .
Hits: 1453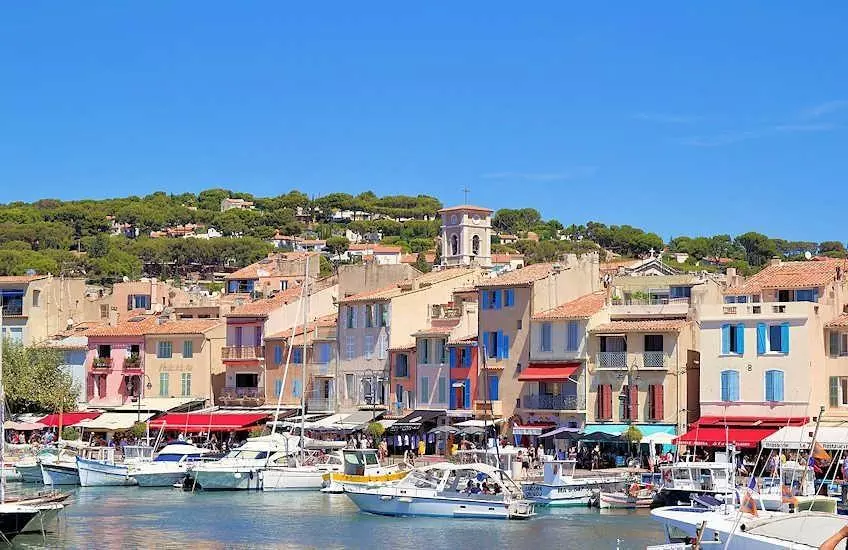 If you look at the French Property Market in 2023, there are 3 immediate challenges that come to mind: inflation, rising interest rates and tightening supply. But the housing market in France will remain strong, especially when viewed from an historical perspective. During 2023, house prices in France will stabilise a bit (perhaps growth will drop below 5%) and the number of property sales will remain just above 1 million during the year. If anything, 2023 will be seen as a 'soft landing' year, as the explosion in the French property market after the Covid-19 confinements, gives way to a more level of activity.
Cost of living pressures in France 2023
During 2023, there will be continued cost of living pressures caused by the Ukraine war/Energy crisis, but I feel that France has handled these pressures pretty well so far, with inflation only reaching 6.15% in November 2022 (compared to 9.3% in the UK and 10.0% in Germany). The situation is helped by France only needing to import 18% of its energy to meet domestic supply and also by the massive state intervention to keep energy price increases below 4% in 2022. These latter price controls will be lifted during the early part of 2023, but this coincides with a time when global gas prices have actually fallen below the pre-Ukrainian war levels. Obviously, rising prices will dampen the budgets and affordability of house buyers, but it may not change their plans too much. My wife works as a Real Estate agent in the South of France and she has seen buyers asking a lot more questions about the energy efficiency and source of heating for properties, but equally buyers are pretty clued up about the State aid available for installing insulation and converting oil and gas heating to Solar and Ground source heat pumps.
Rising interest rates France 2023
During 2022, Mortgage interest rates have risen in France, from a 50-year low of 1.1% in December 2021 to 2.5% in December 2022. Rates are expected to rise to around 3.5% in 2023 and 2.75% in 2024 [SOURCE: France Interest Rates 2023 www.tradingeconomics.com]. This will also have some impact on the affordability of house buyers, but probably more for first time buyers. Given that house prices have risen sharply over the last 5 years, existing home owners will have higher levels of capital to use for purchases. I think that when it comes to Mortgages, it is not necessarily the increase in rates that will impact the market, it will be more the attempts of the Government and Banque de France to dampen the levels of consumer debt which will have a bigger effect. During 2022, the Government introduced a new law in France which restricted new mortgage loans to a maximum of 25 years (previously you could obtain a loan over 35 years) and the amount that can be borrowed (including for fees and insurance) is to be capped at 35% of the borrower's income. There were also reports that by the end of 2022, some banks in France had stopped giving out new mortgages, simply because they had reached the upper limit of the amount they could lend during the year (as stipulated by the Banque de France). A lot of house buyers were being told to re-submit loan applications in early 2023. So I believe that these regulatory changes will lead to a reduction in the number of house sales in 2023, but the rates will still remain high compared to 5 years ago.
Shortage of houses for sale in France 2023
Finally, I think that the main impact on the property market in France in 2023 will come from the simple fact that there is a lack of supply - both from the amount of new builds being constructed and from people putting their house up for sale (in the areas where people are looking to buy). As I highlight below, since the Covid-19 confinements, a lot of people moved from the major cities to the provinces in France. This helped soak up the supply of rural homes and properties in provincial towns (as well as arresting long term declines in population levels in rural areas). But now we are seeing in places like the Herault and Gard departments in Southern France, that whilst there are still plenty of buyers around, there is a falling supply of houses for sale. In short, it is very easy to sell your house in this region, but where will you go if you sell it? House prices are still going up, there is very little else to buy and there is a lot of competition for those houses. Similarly, land prices for new builds are probably the highest they have ever been and the cost of construction materials are about 20% above what they used to be prior to Covid and the Ukrainian war. So unless you are looking to move away from the region, you may as well stay put in your house.
So I believe that this shortage of houses for sale will have 2 main impacts. Firstly, it will insulate house prices and prevent them from sliding into negative rates; and secondly, it will lead to a reduction of house sales. So during 2023, we will get this 'soft-landing' of the French property market.
French property Market 2023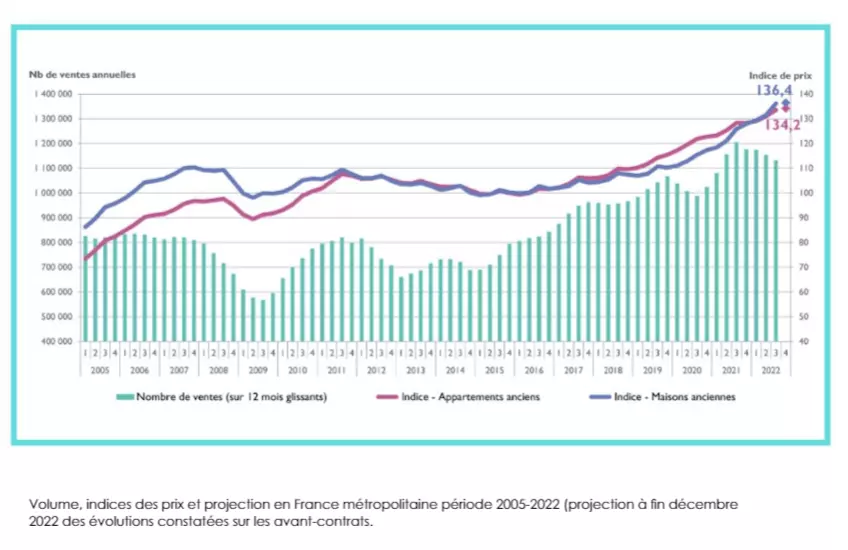 Property market France 2005-2022 [source: Bilan Immobilier 2022 notaires.fr]The housing market in France over the last 5 years witnessed almost unprecedented levels of growth both in terms of prices (house prices have increased by 27.8% over the last 5 years in mainland France) and the number of property sales. Property transactions have topped the historically significant 900,000 mark in every year since 2017 and the rolling average of property sales have hit over 1 million in 13 out of the last 20 quarters.
During 2022, house prices in France continued to increase by 6.4% in the 12 months up to Q3 2022 and this is a continuation of almost 5 years of steady price growth.
In terms of property transactions, yes there has been a steady decline in sales during 2022, but this needs to be put in an historical context. The rolling average of property sales in France has dropped for 4 consecutive quarters, but this is from the historic highpoint of Q3 2021, when property sales reached 1,200,000 for the first time ever. Also, whilst the rate of property sales is slowing down, they still remain extraordinarily high. The latest figures show that in the 12 months up to Q3 2022, total property sales stood at 1,133,000 - which is the 6th highest quarterly rate out of the last 68 quarters [SOURCE: Bilan Immobilier 2022 notaires.fr].
If you look back over the last 20-30 years, property sales in France averaged around 700,000-800,000 a year. They did not breakthrough the 900,000 barrier until the second quarter of 2017. Since then the housing market has remained very buoyant, only dropping back a bit in the height of the Covid pandemic. Since the end of the Covid confinements, the housing market in France exploded as people looked to move out of the big towns and move to the countryside and provincial towns. This is a pattern that has been seen in other countries, but I think in France, the disparities between the high house prices in popular cities such as Paris, Bordeaux, Nantes and Lyon and the much lower prices in the regions, really caused a structural change in the property market. Basically, if you were in a position to work remotely with your job, you could swap your 2 bed flat in a city for a 4 bed house with garden in rural France and probably still have some change to spare.
So my first prediction for 2023, is that I think by the end of the year
the rate of house sales in France will fall below 1 million by the end of 2023.
This will represent a cooling of the housing market compared to what has happened in the last 2 years. But overall, the French Property Market remains in a very strong position. People are still looking to purchase houses in France, it is mainly the locations where they are looking to buy which has changed.
House prices in France in 2023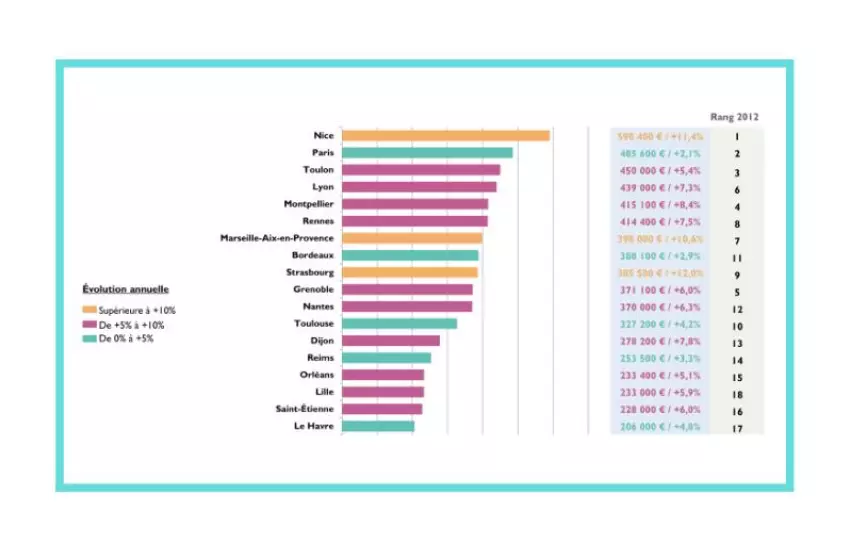 2022 house prices France [SOURCE: Bilan Immobilier 2022 notaires.fr]ThereThere is a very interesting quarterly report published by the national body of Notaires in France (the property lawyers and property tax collectors). This collates the number of house and apartment sales across France. This provides a more accurate picture of property trends in France than data from Real Estate companies because it shows the actual sales price as opposed to listed prices. The latest French Property Market report for Q3 2022, recorded that the 5 year trend of rising house prices in France, now means that
"An average mortgage of €1,300 per month will just enable the purchase of 113m2 of living space in a house in France".
The report notes that this is a fall of -10m2 over the last 5 years and -35m2 over the last 20 years.
In terms of older houses (built more than 5 years ago), the report shows that house prices rose by an average of +8.2% across France in the 12 months to Q3 2022. In the provinces (non-urban areas), prices rose by +8.6% during the 12 months to Q3 2022. It further notes that house prices in the provinces of France have now increased by +23% in the last 3 years.
The report does highlight some wide discrepancies in the prices of houses across France. It shows that there are now 6 conurbations in France where the average house price is above €400,000 (Nice, Paris, Toulon, Lyon, Montpellier and Rennes).
House prices in Nice have increased by more than €100,000 in the space of the last 2 years.
The prices of houses in Rennes, the capital of Brittany, have increased by +39% in the last 5 years and the city has now overtaken Marseille/Aix-en-Provence, to claim 6th spot in the list of most expensive places to buy property in France.
At the other end of the scale, whilst in 2017, there were 11 conurbations in France where average house prices were below €300,000, in 2022, there are now just 6 conurbations (Dijon, Reims, Orléans, Lille, Saint-Étienne and Le Harve).
The report notes that house price increases have been particularly dramatic in 5 cities in France. Across the last 10 years, house prices have risen by an incredible +56% in Bordeaux, +49% in Nantes, +42% in Lyon, +40% in Strasbourg and +35% in Marseille/Aix-en-Provence. In contrast, house prices rose only moderately between 2012-2022 in Le Harve (+13%), Orléans (+17%) and Reims (+18%)
In terms of apartments in France, the median housing loan of €800 per month (given to borrowers purchasing an apartment), will now just enable someone to buy an average of 43m2 of living space in an apartment in France. With this amount of money, you could buy a 128m2 apartment in Saint-Étienne, but just a 31m2 apartment in Lyon.
The report notes that the prices of apartments in France rose by an average of +4.5% during 2022, slightly less than the +5.3% increase in 2021 and +6.6% rise in 2020. However, the data did show a marked distinction between the prices of apartments in major cities (where price rises have been fairly static) and in the provinces of France, where prices have risen by +6.9% during 2022.
There are 5 locations in France where apartment prices have been rising the fastest. Between 2012-2022, the price of an average apartment increased by +60% in Rennes, +58% in Lyon and Bordeaux, +53% in Nantes and by +45% in Strasbourg.
In contrast, there was only one city in France where apartment prices fell during the last 10 years (in Saint-Étienne apartment prices fell by -3%) and Toulon (+2%) and Grenoble (+7%) were the only cities in France to see single digit increases in apartment prices.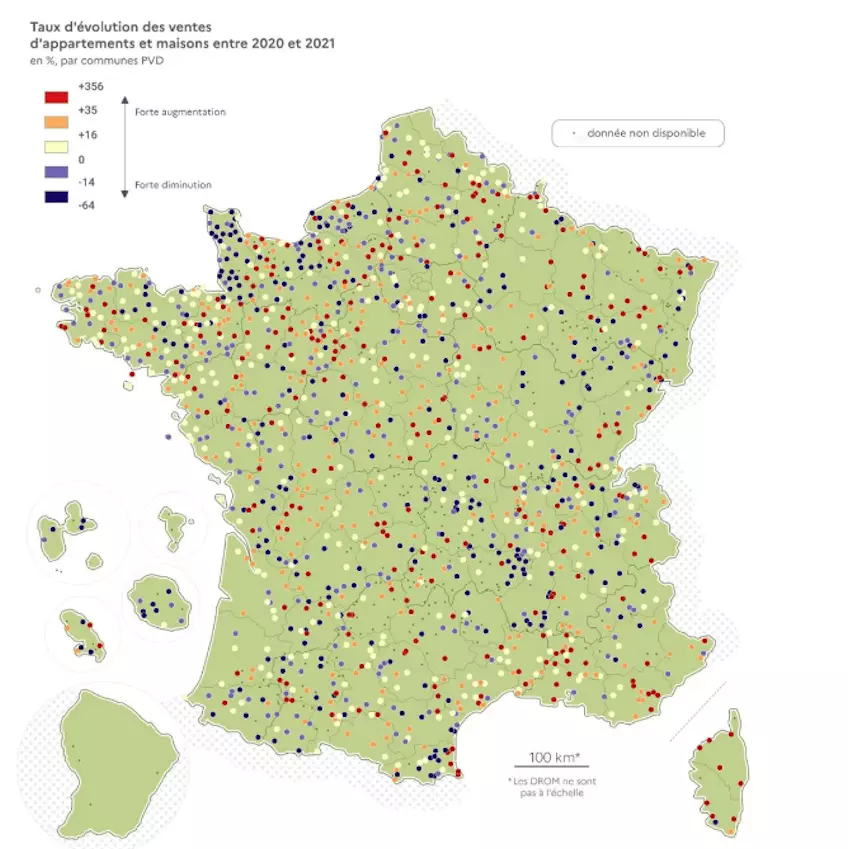 Popular places to buy in France 2022 [SOURCE: Conseil supérior de notarist 2022]What is also interesting to see, is where French people and Foreigners are buying houses in France. In 2022, the rural department of Eure-et-Loire, just south-west of Paris, saw the biggest increase in property sales by French people over the last 12 months (+32%). The departments of Orne in Normandy (+18%) and Cantal in Central France (+7%), were also popular locations for French nationals to buy properties.
In contrast, foreigners concentrated their property purchases in France in 5 locations. The department of Dordogne (+8%) remains a popular spot for foreign buyers. But non-French buyers also sought out property in Corsica (Corse-du-Sud +3%), close to Switzerland in the Haut-Rhin department (+7%) and Luxembourg in the Meuse department (+4%).
The small department of Creuse, located between Limoges and Clermont Ferrand - one of the least populated areas of France - also saw an influx of foreign buyers during 2022, some 7% higher than previous years.
The report also highlighted an increase in activity in the new builds sector in France. During 2022, the construction of multi-occupancy buildings (blocks of flats) increased by 11.8% and and individual houses by 2% [Source: Notaires France].
One measure which is helping drive the growth in new build projects is the PINEL law in France. The PINEL law provides quite generous tax relief of between 12% to 21% to private investors. To qualify, private individuals must purchase a new build apartment or house and then rent it for at least 6 years and within pre-defined limits on the rent. The law was introduced to try and encourage the stagnant new-build property market in France and it appears that it is having a positive effect on this sector of the French housing market.
In addition to this, the French government introduced a new Capital gains tax relief in 2020 to encourage landowners to sell land for development and this tax relief applied to land sold up until 2022.
My second prediction for the French property market in 2023 is that:
Property prices in France will continue to rise during 2023, albeit at slightly lower increases than we have seen in the last 2-3 years.
I believe the strength of house price increases during 2022 will continue into the first half of 2023, before subsiding a bit during the latter half of the year. The lack of supply of houses and apartments put up for sale, will help to keep prices insulated as more and more buyers chase fewer properties for sale.
Housing Mortgages in France 2023
In November 2022, the Banque de France reported that the total amount of French housing loans rose by +5.7%. The total value of new housing loans in November 2022 stood at €18.3 billion, (compared to €21.1 billion in May 2021). In previous years, almost 30% of new housing loans issued in France were re-negotiations of existing mortgages, as borrowers sought to take advantage of historically low interest rates. But in November 2021, only €2.3 billion (or 12.5%) of new loans issued resulted from re-negotiations of existing loan commitments. The other interesting fact, is that just under 50% of the new loans were issued to first time buyers (48% of new loans), which is a welcome trend.
Over the last 3 years, the structure of the mortgage market in France, has helped to fuel higher property transaction rates. The vast majority of housing loans in France are repayment mortgages (around 85%). This enables French property owners to build up capital in their houses as prices continue to rise and outstanding loan amounts are reduced.
According to a study by Credit Foncier, in the last 8 years, due to the fall in mortgage interest rates, the average monthly re-payments for French mortgage holders fell by -22% (a saving of €140 euros per month). French property owners witnessed the fall in interest rates and queued up at their banks to renegotiate their fixed rate mortgages at a new lower rate (80% of mortgage holders who re-negotiated their mortgage terms remained with their existing mortgage provider). At the same time, the growth in property prices helped to boost the creditworthiness of French mortgage holders rose by +35%. The combined result of these two factors enabled the property purchasing power of French mortgage holders to increase by +29% between 2016 and 2020 and this helped to propel the number of property sales during 2020-2022 to historic levels.
But it looks like the era of incredibly low interest rates in France is coming to an end. From the historic low point of 1.10% interest rates in December 2021, the French Central bank now reports that the average interest rate now stands at 1.91% in November 2021. The interest rates for French housing loans are predicted to rise further during 2023, hitting 3.0% by the end of the year [SOURCE: Banque de France household loans Q3 2022].
My final prediction for the French property market in 2023 is that:
whilst mortgage interest rates will continue to rise during 2023, I don't see this dampening demand. Borrowers may have slightly smaller budgets, but the urge to move house will remain and the total value of home lending in France will remain high.
Even with interest rates climbing up, with average house prices rising by +6.7%, property still remains a good investment in France.
French economy 2023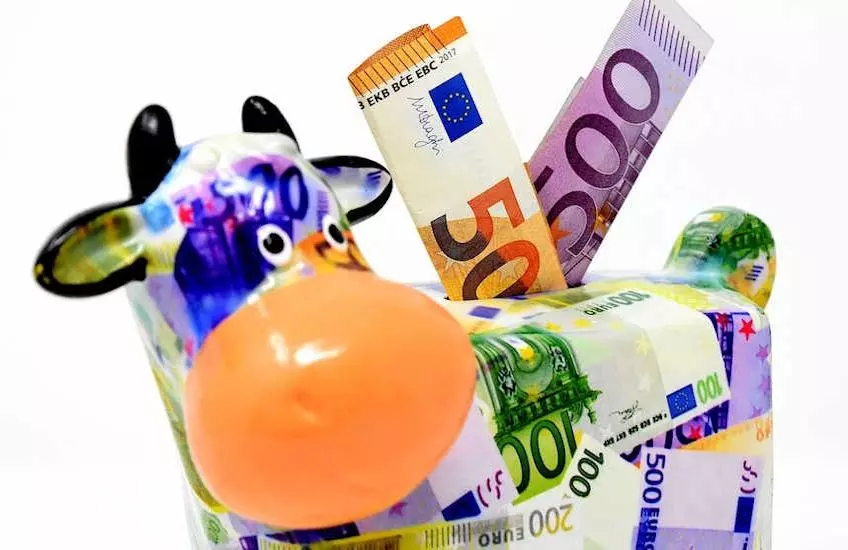 The hosing market is often a reflection of the wider state of the economy. It is never an exact mirror image, with house buying decisions often lagging behind movements in the economy. So how will the state of the French economy in 2023 affect the French property market?
A recent article in Le Monde highlighted a number of issues impacting the French economy during 2023, with inflation being the number one concern. But it commented that:
Growth is expected to slow significantly in 2023 although it is still officially expected to come at 1% by the finance ministry. The Bank of France is predicting that "if there is a recession, it will be limited and temporary."
Elsewhere, it reports that both exports (+2%) and imports (+3.5%) are increasing in France and investment in capital stood at a healthy 1.7% at the end of 2022.
[SOURCE: Le Monde 31 Dec 2022]
Similarly, Bloomberg also predicted that the French economy would narrowly avoid recession during 2023:
France will narrowly avoid a recession that's threatening other major European economies this winter as growth recovers in the early months of 2023 . . . as more nuclear reactors restart following a large number of shutdowns for essential maintenance work and as services accelerate.
[SOURCE: Bloomberg 15 Dec 2022]
The French Statistics body, INSEE, has forecast that inflation will continue to advance and reach a peak of 7% in January 2023 - the highest rate since 1984 - before subsiding to 5.54% by Q4 2023.
The European Commission's conclusion on the state of the French economy during 2023 and into 2024, is that
For 2023 as a whole, GDP is set to grow slightly, by 0.6%. The French economy is projected to keep gaining momentum until the end of 2024 along with the ongoing moderation of energy prices. The gradual rebound is expected to be driven by domestic demand, with GDP projected to expand by 1.5%.
[SOURCE: European Commission]
So overall, the French economy during 2023, is likely to avoid a recession and it will build on the 2.6% of growth recorded in 2022. France will remain in a better position than some of its European neighbours. The French government reacted quickly to the Energy crisis caused by the Ukrainian war - even though this coincided with a period of major maintenance issues in the French nuclear industry - and this helped to keep inflation rates below 6%. As more and more nuclear plants come back on stream during the first quarter of 2023, the pressure of energy price rises will subside. Unemployment has fallen to 7.3% in 2022 and this helped the government to force through changes in (the over-generous) unemployment benefits, reducing the claimant entitlement by 25%.The French government remains committed to reforming the pension system in France during 2023, in particular raising the minimum retirement age in France to 64 years by 2030. This effort is needed to make the French pension system financially sustainable. One economic measure which largely goes unreported, is the number of new companies being created in France. If you go back 5 or 10 years, then the average number of companies being formed in France was stuck at around 600,000 per year. But since the beginning of 2019, new start-ups in France have surged and throughout 2022, the rolling average topped 1 million. This is a very welcome change and bodes well for future growth in the economy.
Continued growth for French property Market 2023
So in summary, despite a number of economic challenges, the French property market in 2023 will remain in a pretty good shape. House sales will probably remain around 1 million during 2023 and although property prices may slow down, they will remain at around +5% during the year. France remains a good bet for property investors, especially in the rural areas away from the major cities.
Thinking of moving to France in 2023 . . . ?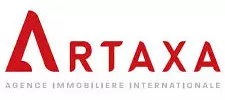 Artaxa RE/MAX Immo, is a French real estate business that specialises in helping Foreign investors buy French property. The agency is based in the beautiful wine village of Roujan and provides a property sales teams across the Languedoc region. Artaxa is a genuinely International real estate firm, employing multi-lingual staff in the three regional offices. For further information about buying property in South France, please contact Jane Laverock on +33 6 95 50 19 21 or by email at Jane@artaxaimmo. Alternatively, if you have any particular questions you would like to ask about living in the South of France, then contact Iain by Email.