Where to buy in France: The 5 star villages near Pezenas
Last updated on .
Hits: 8577
There are 5 villages close to the historic town of Pezenas in the South of France, which I think represent the best places to buy a house in France during 2023. The property prices here are very stable (having risen by over 15% in the last 3 years) and these locations offer the chance to gain considerable rental return, to certainly cover the annual costs of the houses and maybe provide a little bit extra. In fact, by combining short term summer rentals, with longer winter lets, property in these locations can earn an annual yield of between 7-9%.
Buying property in France
A customer recently asked me for advice on where to buy a house in France. I advised him to look at one of the 5 star villages surrounding Pezenas in the old Languedoc region of Southern France. If you are looking for a good property investment, where house prices are still relatively cheap and houses hold their value, then Pezenas is certainly a good choice.
But what makes it even better, is that in Pezenas you can also enjoy a high quality of life, you can live near one of the prettiest towns in the South of France, you can be close to the Mediterranean coast, you have excellent transport connections and you can benefit from excellent rental returns.
So if you are looking to buy a house in France during 2023, I would strongly recommend that you look at Pezenas and these 5 surrounding villages of Caux, Nezignan l'Eveque, Neffies, Montagnac and Tourbes. Let me firstly explain why.
Why buy a house in the South of France?
If you are thinking of where to buy a house in France, I would firstly guide you to look at the South of France, rather than other popular regions in France. There are a number of reasons for this.
Firstly, with 10 airports with low cost flight services from UK, Ireland and Northern Europe; it is easy to reach.
Secondly, the climate provides excellent all year round living - with hot summers, beautiful Spring and Autumn temperatures and mild winters.
Thirdly, the South of France provides a wonderful quality of life, with beautiful towns and villages, excellent beaches, a rich culture and endless vineyards.
Finally, when you add up all of these factors, you are left with a region which has high demand from visitors for holiday rentals and long winter lets - making any property investment virtually self-financing, with healthy rental incomes off-setting the cost of loans.
Why buy a house near Pezenas, France?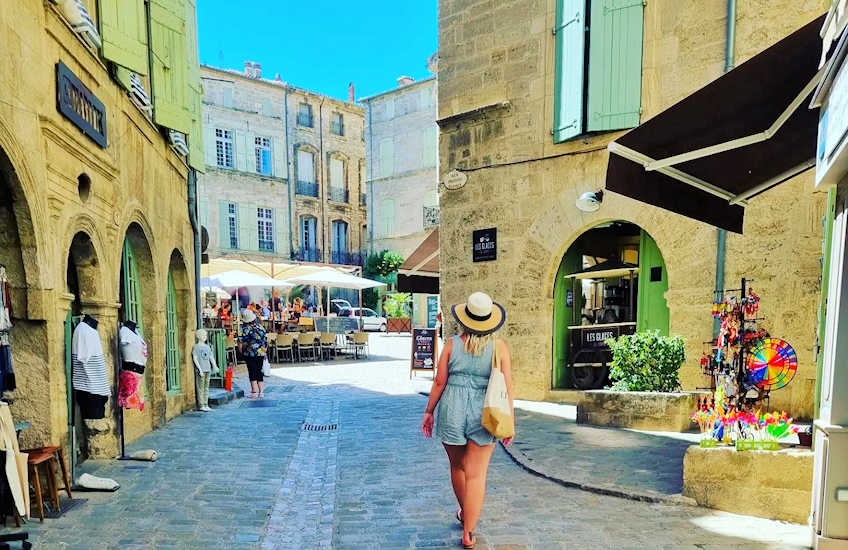 Assumming that you don't have the budget to afford Provence or the French Riviera, then the Languedoc is a great choice. This fast rising region of France stretches up from the Spanish border in the South; to Provence and the Cevennes mountains to the North. The Languedoc has recently been absorbed into the Occitanie administrative region of France (although everyone still refers to this region as the Languedoc).
The Languedoc is home to 2.8 million people. It covers a diverse range of territory, from sandy Mediterranean beaches on the eastern coast, to a large coastal plain in the centre and a range of Mountains to the North (the Cevennes), the West (Massif Central) and South (Pyrenees). The largest towns and cities include Montpellier, Nimes, Narbonne, Carcassonne and Perpignan. The region is home to 6 UNESCO World Heritage sites, including the Pont du Gard, the village of Saint-Guilhme-les-Desert, Carcassonne Castle and the Canal du Midi.
The Languedoc is the largest wine region in the World. Its 740,000 acres of vineyards produce 3 billion bottles of wine per year. The most well-known wines include Picpoul de Pinet, Pic St Loup, Faugeres, Corbieres and Fitou.
The Mediterranean coastline and the warm climate in the Languedoc, help attract over 2 million tourists per year. Tourism comprises 15% of total economy. The Languedoc only loses out to Provence-Cote d'Azur as the region of France with the most holiday homes (344,000 second homes). There are 5 airports in the Languedoc, all of which operate low cost flights to the UK, Ireland and Northern Europe.
Pezenas: the 5 star villages
The reason why I call them 5 star villages is because there are 5 of them and when you highlight them on a map, they form a star pattern around the historic town of Pezenas. I also call them 5 star villages because they are simply the best villages to live in.
These 5 villages are also very popular with clients for summer holiday rentals and long winter rentals - which means that you can subsidise your house purchase costs with a healthy rental income all year around.
The property prices in these 5 villages are slightly higher than other villages - probably around 5% higher - but I would categorise this as reassuringly higher. Buying a property in one of these 5 star villages makes a good choice because the house will tend to hold its value better because the villages themselves are in demand.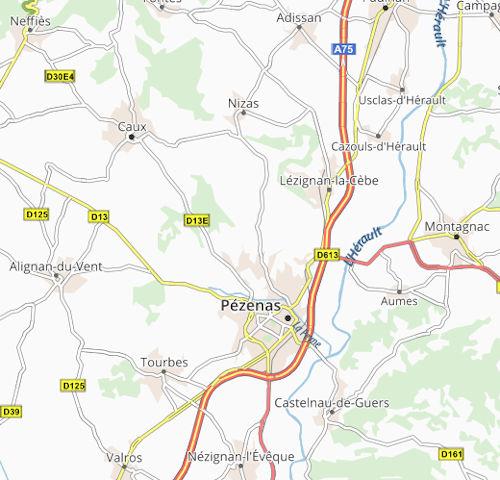 Pezenas is located in the Herault department, in the centre of the Languedoc. Pezenas is 20 mins from the Mediterranean coast and lies 50 km South-West of Montpellier and 20 km North of Beziers. The town has a full time population of 8,000 people. Pezenas has always been a wealthy town and the many mansion houses in the historic centre of the town help make it unquestionably the prettiest town in the South of France.
We absolutely love visiting Pezenas. In the centre of the town there are some beautiful old streets unchanged over the last 5 centuries. It is also an important arts centre, with many arts festivals, theatre productions and antique fairs taking place throughout the year.
Pezenas is also a short drive to the coast, with excellent beaches just 25 mins away. Pezenas is surrounded by vineyards and has excellent transport connections.
Pezenas has a good range of shops, supermarkets, banks, restaurants, pharmacies, etc and there is an active social scene all year around. Pezenas has a well respected wine cooperative.
There is definitely a 'Pezenas premium' on house prices, but you can still pick up a property at a reasonable rate. Pezenas is definitely my top tip as a place to buy a house in Languedoc. Properties in Pezenas rent most of the year and if you are able to find a villa closeby with a pool, then you are almost guaranteed 12 weeks summer holiday rentals.
In my opinion, there are 5 villages surrounding Pezenas that you should consider if you are looking to buy real estate: Caux, Tourbes, Nezignan l'Eveque, Neffies and Montagnac.
These 5 places, apart from being the prettiest villages around Pezenas are also the areas where property prices hold their value (or are increasing). They also offer the best quality of life, across a range of factors.
Most sociable village: Caux South of France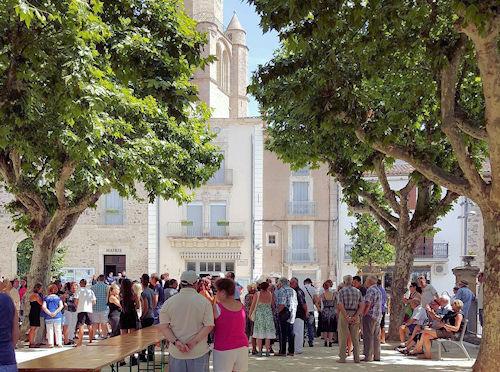 Caux is a very popular village located just 4kms from Pezenas. It has a lovely old hilltop centre (they call these villages Circulades in France on account of the circular streets that wind up the hill). Caux is a very old village, with records showing it first being established in 880AD, although numerous Roman remains point to a much earlier settlement. In the 1300's, the Great Plague which swept across Europe almost wiped out the village, with only 6 inhabitants surviving.
Caux was also the home village of Jean Pomarèdes (known as La Canaille de Caux or the Scoundrel of Caux) a famous 19th Century Highway Robber, in the vein of Dick Turpin. Pomarèdes was eventually executed by guillotine in Pezenas in 1843 in front of a crowd of 50,000 people. He was convicted of 3 murders and 58 robberies.
Caux has a population of around 2,500 people and it has a good range of local services, including 2 restaurants, a bar, small supermarket and pharmacy. There is also a little epicerie (Deli/Shop) in the centre of the village. Every second Friday in the month, the epicerie is converted during the evening into a fully-fledged wine bar, serving tapas and the wines from the local vineyard. We have been a couple of times and it was absolutely packed.
We know Caux quite well, as we have a number holiday rental properties and long term lets in the village. Also the popular restaurant in the centre of Caux, Les Valseuses, is run by the family of our son's best friend. We have known Eric Brun, since we used to stand on the touchlines watching Tom and Cameron play football together. You always get a great meal at the restaurant, with lovely flavour combinations.
The whole centre of Caux was recently refurbished, including new pavements, resurfaced roads and the building facades were all given a spruce up. It now looks really lovely and I wouldn't hesitate in recommending Caux as a great place to buy a house near Pezenas.
Prettiest village: Nezignan l'Eveque near Pezenas
There are a number of reasons why Nezignan l'Eveque has become such a property hotspot in the last 10 years. Firstly, it is without doubt one of the prettiest villages in this part of Languedoc. With it's cicular streets surrounding the old church and its old stone buildings, it is a beautiful environment. The historic centre of the village is lovely to walk around, with many buildings dating back to the 13th and 14th centuries.
The village used to be dominated by an old Abbey and you can still see remnants of the ancient hospital, the wine cellars and tunnels under the streets and houses. When the Abbey was torn down after the French revolution, many of the stones were used to build the nearby houses. Nezignan l'Eveque became an important centre for Fig cultivation and winemaking.
The village is surrounded by vineyards and there are still winemakers active in the village. Over the last 20 years, the local mayor has transformed the village, investing in both the physical appearance of the village and the social activities available. The palm tree-lined main street, the renovated cobble lanes, the beautiful flower beds throughout the villages and the well maintained buildings; all create a visually pleasing atmosphere.
Secondly, Nezignan l'Eveque is a village full of life and activity. It is an extremely friendly village and you will not be short of things to do and friends to make. The village holds a number of festivals throughout the year, including a popular Fig festival, a summer fete with 30 piece band playing long into the night, a fireworks display for Bastille day and a food and wine festival. The whole village turns out for each of these events.
The village also has many sports clubs, as well as a popular historical society and ceremonial society (Becos Figos) honouring those inhabitants who have contributed to enhancing the life of the village. The village is also home to a boutique hotel, bar, restaurant, small supermarket, newsagent, hairdresser, beautician, bakers and a number of artisans (builders, electricians, mechanics, etc).
Finally, the physical location of Nezignan l'Eveque helps to enhance the property values in the village. The village is located in between Beziers and Montpellier and is popular with commuters. It is situated close to the A75 and A9 motorways, which provides easy access to the major towns and to the coast. The Mediterranean beaches are just 15 minutes drive. Beziers airport is just 15kms away and TGV train sations can be found in nearby Agde and Beziers. The local town of Pezenas is a popular draw for tourists in the area and it also provides many local services such as supermarkets, DIY stores, a local hospital, a cinema, restaurants and shopping.
It is for these reasons that Nezignan l'Eveque attracts a 10-15% premium on its property prices compared to other local villages. It is also what makes it such a pleasant place to live in. Find out more about this gem of a village close to Pezenas: Nezignan L'Eveque property hot spot France.
Best facilities & services: Tourbes village France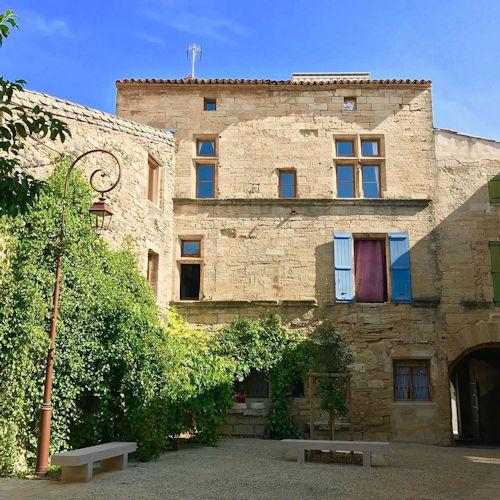 Tourbes is real up and coming village close to Pezenas. The village is surrounded by vineyards and there are a number of local wine producers (including the excellent Domaine la Vivarelle). Tourbes has a strong community feel and I have always found it to be a very friendly village. In the Spring, the village organises a huge barbecue for the whole village where they roast a sheep on a spit over an open fire. The barbecue takes place in a lovely wooded area just above the village, where they lay out long trestle tables under the trees and where you can play Boules with a glass of Pastis in your hand.
For a small village, Tourbes is very well equipped. It has 2 bars and 2 restaurants. The main bar, which is situated on a small square overlooking the church, is the real centre of the village. The bar serves food and is open every day from 08.00 through to late in the evening. Just a 100 metres down the high street, there is an upmarket wine bar, Caveau Ferlus, which also serves tapas. I always joke that you can't get entry to the wine bar unless you have a belt on your shorts and a jumper draped around your shoulders. However, good friends of ours who live in Tourbes, regularly go to the wine bar and they say that the Owner is a really nice chap who runs the wine bar more for pleasure, than just as a business.
Continuing down the high street, there is La Maison, a restaurant with an excellent reputation. Previously, this was run by an Irish chef and his French wife. When he opened the restaurant, he was clearly aiming towards a Michelin rosette (the restaurant award just below a Michelin star). The restaurant is now run by a French family and they have hired a well-respected local chef who is a member of the Disciples d'Escoffier (a Guild of high level chefs who carry on the traditions of French cooking, as laid out by the father of French Cuisine, Auguste Escoffier).
Finally, there is the extremely popular La Table Des Vignerons bistro restaurant located at the Wine Cooperative. This restaurant is always packed out and serves excellent steaks, Toulouse sausages, duck breasts and fresh fish, all cooked over a large barbecue. The restaurant serves wine from the local co-operative at wholesale prices and there is a wine shop next door where you can buy a range of wines to take home with you.
Tourbes also has a local pharmacy, a boulangerie, Beautician and a hair dresser. There are a number of new houses being built around the outskirts of Tourbes and this land sale has enabled the village to fund the building of a brand new primary school
The house prices in Tourbes tend to keep their value and are slightly above the local market rate (by 5-10%). The village is a popular destination for summer holidaymakers on account of its proximity to Pezenas and the Mediterranean beaches. Therefore, an investment in a holiday home in Tourbes can always net you good additional rental income over the summer period.
Best investment opportunity: Montagnac, South France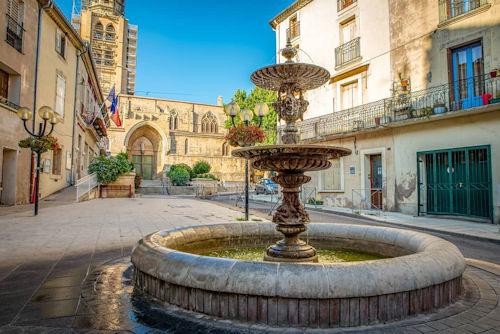 Montagnac is a lovely village with all the necessary shops that one would require but yet still keeping a village feel. Situated in between Meze and Pezenas it is an ideal location, surrounded by vineyards in all directions. During the summer there is live music on the Esplanade twice a week, where you can also have a meal in one of the three restaurants or have a take away. Friday morning is the local market and in the summer every Tuesday there is an evening market selling local arts and crafts. There are 3 bakers, a mini supermarket, butchers, fruit and vegetable shop, along with a bank, wine cave, Doctor, dentist and pharmacy. On the edge of town there is the largest wine cooperative in France.
Montagnac is a 3 minute drive from the historic town of Pezenas, with its artisans, antique dealers and many restaurants. Fifteen minutes to the south brings you to wonderful Mediterranean beaches. To the North and west there are many mountains with grottos, rivers and scenic drives. Further inland there is Carcassonne, with its medieval castle; and many Cathar fortresses. The Spanish border is just 1 hour 15 mins drive. There are many chateaux in the area where you can taste and enjoy the Languedoc wines. Outdoor markets abound in Montagnac and the surrounding villages. Just 10 minutes away brings you to the Etang du Thau, an inland salt water lake separated from the Mediterranean sea by a thin strip of golden sandy beaches. Along the shores of the Etang you will find a number of fishing villages, which cultivate the excellent oysters and mussels which are exported all over France. Our favourite spot is the village of Bouzigues, which features a number of excellent seafood restaurants and many local producers from whom you can buy your oysters fresh off the boat.
Just on the outskirts of Montagnac, there is the fabulous Cote Paul Mas, a high class restaurant, wine bar and wine cellar. On the same road you will also discover the picturesque Abbaye de Villmagne, an ancient Abbey. Just next to the Abbey there is an excellent country park with many picnic spots, mountain bike trails and an open air swimming pool.
The one issue with Montagnac has always been the traffic problem. Especially during the summer, many cars wind through the village on the route up to Meze and Montpellier or down to Pezenas. Thankfully, this problem has now been alleviated with the construction of a new bypass around the village. The centre of Montagnac is now a real delight to spend time in and that why it is being tipped as a very interesting investment opportunity. If you are looking to live somewhere with all the facilities that you need within walking distance, then Montagnac is the place to be. It has all the facilities of a town, but with a friendly village ambiance.
Best restaurants and views: Neffies village in Southern France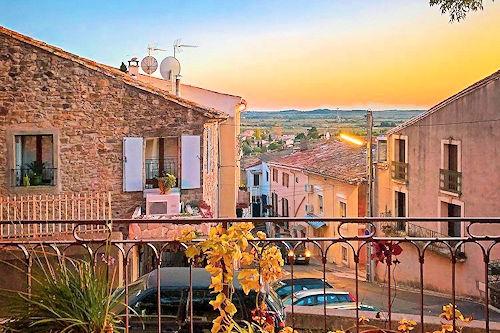 Neffies is another of the Circulade villages close to Pezenas that you should consider buying in. There is a really good restaurant here (Le Very'Table restaurant) and the local bar is great in the summer. There is a lovely terrace where you can look out over the rooftops and the vineyards beyond.
Neffies is not a big place, but there is still a local shop and tabac and you have Roujan just up the road which has all the shops and supermarkets that you will need. Pezenas is just a short drive away.
One of the things that I like about Neffies' location is the fact that you are on the edge of the Caroux hills, which rise up to join the Black Mountains to the West. There are some fantastic walks and cycling routes close to Neffies.
Read more about why the village of Neffies has become such a property hot spot: Neffies - buy a house in France.
Thinking of buying a house in France . . . ?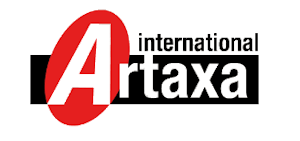 If you want help finding the perfect property to buy in Pezenas or the 5 star villages surrounding it, then please do get in touch and I can answer any questions that you have. I work for the International Real Estate company, Artaxa Immo, and I also work with a wide network of Real Estate companies in Pezenas and the surrounding villages.
Contact Jane Laverock by Email if you have any particular questions you would like to ask about living in the South of France. If you liked the article then please share it with others using the Facebook and Pinterest buttons below.