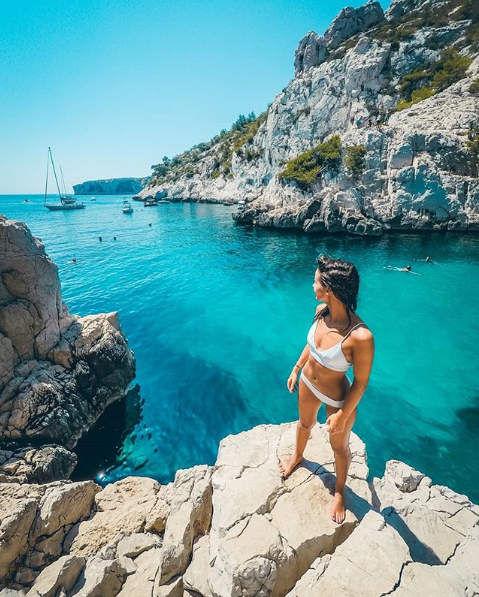 The Cote d'Azur is a fantastic location for a long term rental in France. The weather is stunning, you will always find a festival or local market to visit and you can combine glitzy resorts with quaint old French villages. Perhaps the best time to visit the Cote d'Azur is actually during the low season. The mild winters - when temperatures during December can reach 15°C/59F during the daytime - mean that you can still enjoy outdoor meals and pleasant strolls along the beach. The long hot summers also provide endless opportunities for picnics, browsing around Provencal markets or lazing on the beach.
The French Riviera has some of the most spectacular coastline in Europe. With turquoise waters, rocky cliffs plunging into the sea and beautiful coastal villages it is easy to see why film stars and celebrities have flocked to the Cote d'Azur for decades. Once you get to know the area, you will find quieter beaches and coves where you can enjoy the area like a local.
The principal cities on the Cote d'Azur are of course Nice and Cannes, but other celebrated resorts include St Tropez, Saint-Jean-Cap-Ferrat, Villefranche-sur-Mer, Juan-les-Pins, Saint-Raphaël, Fréjus and Sainte Maxime. My personal favourite places on the French Riviera are some of the smaller towns like Antibes, Menton and Cassis.
Cote d'Azur long term property rentals France
The Cote d'Azur does get incredibly busy during August and rental prices rocket during this month. The summer property rental prices in Cote d'Azur are among the highest in the world. However, there are still some affordable long term rental options if you shop around. Renting over the high summer season is going to be expensive, mainly because the property Owners can charge at least 50% more per week during July and August, than they can earn from monthly rentals at other times of the year.
Unless you have an unlimited budget, then you may want to find other quieter towns and villages in which to be based, away from the tourist throng. Amongst the destinations you may want to consider include Bormes-les-Mimosas, Cogolin, Hyères, Le Levandou, Le Plan-de-la-Tour, Biot, Valbonne, Mougins, Vence, Grasse, Fayence and Roquefort-les-Pins.
As a rough guide, you should expect to pay the following monthly rental rates. The prices exclude the utility bills, which are usually around 15% of the monthly rental price. The rates will obviously vary according to the location (add +15% for coastal properties):
| | | |
| --- | --- | --- |
| Rental type | Off season rentals | Rentals over summer |
| 1 bed property | €1200-1500 | €2000 |
| 2 bed property | €1800 | €2500 |
| 3 bed property | €2250 | €3250 |
| 4 bed house/villa | €2750 | €4000 |
| Upmarket villa | €3000-€4000 | €6000 |
For our full selection of long term rental properties in Cote d'Azur please visit the Cote d'Azur property page. Here are some of the highlights:
Cannes property for long term rentals France (Ref: 1433)
This villa for monthly property rentals near Cannes, South France, comes with stunning sea views, 3 terraces and an infinity swimming pool. The villa is located only a short walk from sandy beaches and is close to the centre of Theoule-sur-Mer village, with its numerous shops and restaurants. This private villa in South France near Cannes is spread over four floors and comes with:
4 double bedrooms
A private lift to all floors
Air conditioning
Private off-road parking
WiFi internet.
The villa is situated in a quiet residential area on a hillside overlooking the Mediterranean sea and the Bay of Cannes. Just next door there is the iconic Pierre Cardin "Bubble House". This villa in Theoule-sur-Mer near Cannes is the perfect place for monthly property rentals for corporate clients attending the many conferences in Cannes. Rental prices start from €4000 pcm.
Villa in Mandelieu-la-Napoule, Cannes for long rentals France (Ref: 1727)
This is a beautiful 4 bedroom villa in Mandelieu-la-Napoule, Cannes, is available for long term rentals for 1-2 years. The villa is located in a quiet neighbourhood on the edge of Mandelieu-la-Napoule and comes with stunning views over the Riviera de Babossi golf course and the Esterel hills. This long term rentals villa comes with private gated parking, a swimming pool, enclosed garden and lovely terraces. Mandelieu-la-Napoule provides easy access to Cannes city centre, the beaches, Nice airport and towns along the French Riviera. The villa features:
4 bedrooms (sleeps 13)
3 bathrooms
8m x 4m heated private pool
Well-equipped kitchen + laundry room
Private parking for 2 cars
WiFi and international TV channels
Panoramic views over golf course & Esterel hills
Horse stables, Tennis and Golf clubs within 2 mins
Quiet residential location on the edge of town
The long term rental prices for this villa in Mandelieu-la-Napoule, Cannes; are based on a 12 month rental period. The prices do not include the utility bills. There is a monthly provision of €350 towards the bills. Minimum rental period is 6 months. Higher prices will apply to shorter rental periods over the summer season. Long term rentals from €3250 pcm + bills
Aups Cote d'Azur villa for long term rentals France (Ref: 1592)
This Cote d´Azur villa for long term rentals is a spacious contemporary property, with 3 bedrooms, 3 bathrooms and a large open plan living room. The villa is situated on a large plot of land (3500 m2) with olive trees, cherry trees and fig trees. The villa is located just 2 kms from the charming village of Aups, which is located 1 hour inland from St Tropez, 1 hour 20 mins from Marseille airport and 1 hour 15 mins from Nice airport. This Cote d´Azur villa is available for long term rentals between October and May. The villa comes with:
3 bedrooms
3 bathrooms
3500m2 garden
Spacious interior
WiFi internet.
Heated swimming pool
2km from village
This villa in Aups, Cote d´Azur, is available for long term rent between November and April each year. Rental prices start from €2250 pcm + bills.
Menton long term apartment rentals Cote d'Azur (Ref: 1668)
A spacious 1 bed sea view apartment for long term monthly rentals in Menton, France. From the terrace you overlook the beach in the picturesque French Riviera resort of Menton. This beautiful apartment is located on the first floor of a lovely apartment building on the Promenade du Soleil. The building was formerly one of the earliest hotels in Menton (Hotel Banastron) and the apartment is decorated with lovely old photos of the hotel. There is no need to rent a car whilst you stay at this apartment. You can catch a bus or train straight from Nice airport to Menton (there is a train station and bus stop near the apartment building). With the beach just a few metres away and the town a 5 minute walk, this apartment rental is very convenient. The apartment comes with:
1 bedrooms
1 bathrooms
Private terrace
Well-equipped kitchen
Sea view
Beach 10m away
Walking distance to boulangerie, cafes, restaurants
The long term monthly rental prices for this Menton apartment are determined by the season and length of stay. Utility bills are in addition to the rent. Minimum stay is one month. Rental prices start from €7500 pcm + bills.
French Riviera villa for long term rent in Mougins (Ref: 1810)
If you are looking for houses in Cote d'Azur to rent long term, then this 3 bedroom house in Mougins is perfect. The house is located just a short walk to the centre of the town and it is a perfect base for a longer term let. The villa provides easy access to the A8 motorway, Cannes, Nice airport, Monaco and the French Riviera coastline. The villa is just 15 minutes from the Mougins International School and the Sophia Antipolis technology park. The main benefits of this house are:
private pool
central heating
3 bedrooms
25 mins to Nice airport
15 mins to Cannes
Beaches just a short drive
Very convenient for Sophia Antipolis technology park
This house in Mougins, France is available for rent from 3-9 months from September to May. The house is currently available to rent from 1 December 2019. The monthly rent will vary according to the length of the rental period and the season
Cote d'Azur property rental France long term (Ref: 961)
This Cote d'Azur property rental France has a heated swimming pool and fantastic scenic views. This property rental is situated within a 1,780 sq. m garden with olive grove. The stone floors throughout help keep the villa cool and welcoming. The master and first guest room have sea views. There are five separate terrace areas and a huge 48 square metre "auto covered" terrace and outside eating area overlooking the pool and the sea view. This villa is in a great location with everything on your door step. The property is laid out on two floors and comes with
4 bedrooms (2 master suites and 2 guest rooms)
4 bathrooms / shower rooms
Near Cannes and the beaches on the riviera
WiFi.
This Cote d'Azur rental property is an ideal base whether house hunting or on an extended holiday. Prices start from €4000 pcm.
Cote d'Azur villa for long term rentals in Callian South France (Ref: 1826)
A 3 bed villa for long term rentals in Cote d´Azur, Southern France, with independent guest studio, fabulous views and walking distance to the village of Callian. This detached villa comes with high speed internet, a private pool, a large garden (3,326m2) and plenty of privacy and peace & quiet. Callian is a hilltop village located in the Var department of Southern France. The villa is just 30 mins from Cannes and 45mins to Nice airport. The villa is laid out on one level and provides 119m2 of living space. The property benefits from gas central heating and reversible air-conditioning. This property for long term winter holidays comprises:
3 bathrooms
3 bedrooms
Large enclosed garden
Private heated pool
Private off-street parking for 3 cars
The villa is available for long term rentals from €2,000 pcm + bills..
Long term rentals France French Riviera (Ref: 1666)
A high quality 4 bedroom long term rentals villa on the French Riviera. The villa has been finished to a very high standard and comes with air conditioning throughout. It provides very comfortable accommodation for up to 8 people. The villa is located in a quiet residential area just below the delightful village of Chateauneuf-de-Grasse, close to Grasse. The villa is built on a large plot of 1 hectare, surrounded by trees and views back up to the village. The nearest beach is just 13 kms and there are 3 excellent golf courses within 15mins drive. This property for long term rentals comprises:
3 bathrooms
4 bedrooms
13m x 8m heated private pool
Private off-street parking for 2 cars
WiFi and flat screen TV
Large landscaped garden
Walking distance to boulangerie, cafes, restaurants
This Chateauneuf-de-Grasse villa for long term rentals is available to rent between October and April. The monthly rental prices are between €2950 to €3850 pcm depending on length of stay.
Thinking of moving to Cote d'Azur . . . ?
If you are thinking of planning a long stay on the Cote d'Azur during 2019, but you are hesitating about taking the plunge - don't worry! We can help you find the right property to rent, as well as introduce you to some excellent relocation experts that can help you with French bureacracy, enroling in schools and taking care of your tax liabilities. For further information please see:
Contact Iain by Email or by phone +33 6 95 00 28 44 if you have any particular questions you would like to ask about living in the South of France. If you liked the article then please share it with others using the Twitter, Facebook and G+ buttons below.