10 Cottages to rent in France long term in 2024
Last updated on .
Hits: 24658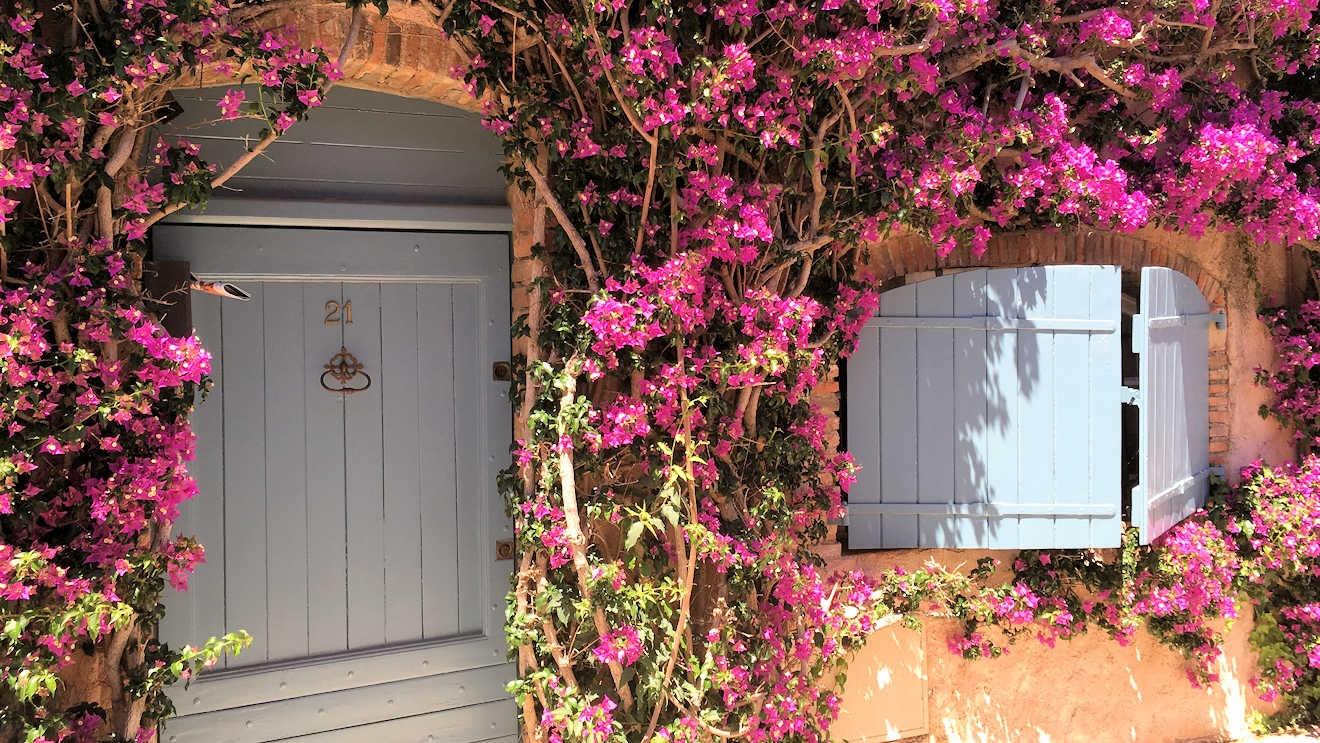 The idea of renting a cottage in rural France for 6 months or even a year is very appealing. It gives you the time to explore all the local markets, source the best olive oil producers, learn about the different wine regions and sample amazing French cheeses (that only taste like they do when bought fresh from the producer).
The 12 months from September 2023 to September 2024 is an exciting time to be in France. In the Autumn, France hosts the Rugby World Cup and already preparations are in full swing for the opening match on 8 September 2023. The competition will be be played in 9 cities throughout France (including Toulouse, Marseille and Nice in the South of France) and will involve 20 countries and 48 matches. It is estimated that 1 million visitors will arrive in France during the World Cup. A special France 2023 Rugby Tour exhibition - including the famous Webb Ellis cup - will travel to 51 towns and cities throughout France during the competition. The exhibition will travel across France in a specially adapted train.
Then in 2024, Paris is the host city of the Olympics. We were in Paris a few months ago and it seemed that every historic monument was clad in scaffolding. The buildings are all being spruced up in readiness for the Olympics. So I would say if ever you want to visit Paris, then 2023 could be the time to go, as all the beautiful buildings are revealed to the World after their facelift.
If you are looking for a long term rental in the South of France during 2023-2024, then we have a number of French Cottage properties suitable for a long term let. At Long term rentals in France we personally inspect all the Cottages that we advertise to make sure that they are properly equipped for rental over the winter periods. If you are looking to rent a Cottage long term in South France, you will see some items below that offer a good checklist on what to look out for if you are considering a long term rental for 3-12 months.
Checklist questions for long term rental cottages South France?
Is the cottage equipped for a long term rental?
Many cottages in the South of France are very simply equipped and lack decent insulation. Whilst open beamed roofs exposing the clay ceiling tiles maybe charming in the summer, you will not think so in the midst of winter. Our previous long term rental house lacked even basic insulation and was like a fridge in the winter (and an oven in the summer). Also check that the fireplace works. All landlords in France have to get a certificate proving that the chimney is useable. Another trick to be wary of is to be proudly shown the electric wall heaters in every room as proof that the cottage is suitable for a long term let. If you are renting a house long term in France over the winter don't even think of turning these heaters on! - they drain money quicker than they heat up the room. Electricity in France is ruinously expensive. Everyone down here in the winter either picks up drift wood off the beach (there is huge quantities of it after there has been a storm), burns vine wood (burns well and gives off a beautiful smell) or uses small oil or gas cylinder heaters. I am sure that you will be fine, but it is better to be warned in advance. Also, make sure to check:
What linen and crockery is provided in the cottage and is it sufficient?
Is there decent lighting for those longer winter evenings?
Is there enough storage facilities?
Is there adequate heating in the cottage for the winter months?
What is the area like in the winter?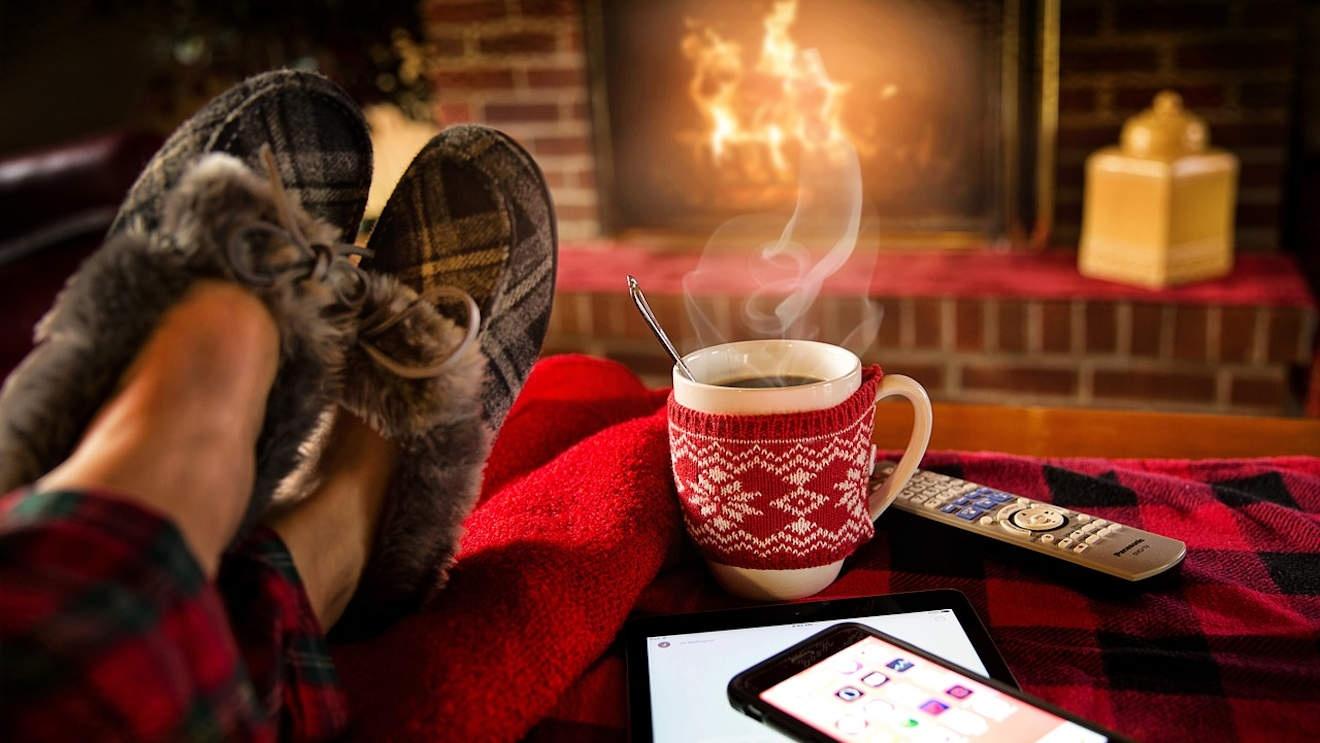 Many French towns and villages are quite different once the tourists have left at the end of summer - especially in some of the popular holiday rental areas such as Dordogne, Provence and the Languedoc. If you are renting 'out of season' just ask the question - what is the area like during the winter? So for instance,
do the weekly markets still take place?
what are the average rainfall and average temperatures like in the winter months
are there strong winds during the winter (like the Mistral in the Rhone valley or Tramontane in the Pyrenees)
what do people do here in the winter?
A long term let is different from a holiday rental and you want to make sure that you see more than one person a day. Even our own village, Nezignan L'Eveque near Pezenas in the Languedoc, which is a lively little place, gets noticeably quieter from October through to March with about 20% of the houses closed up. So just make sure that your proposed long term rental location does offer some signs of life in the winter months. I always advise customers to be based near a large town which has life to it all year around.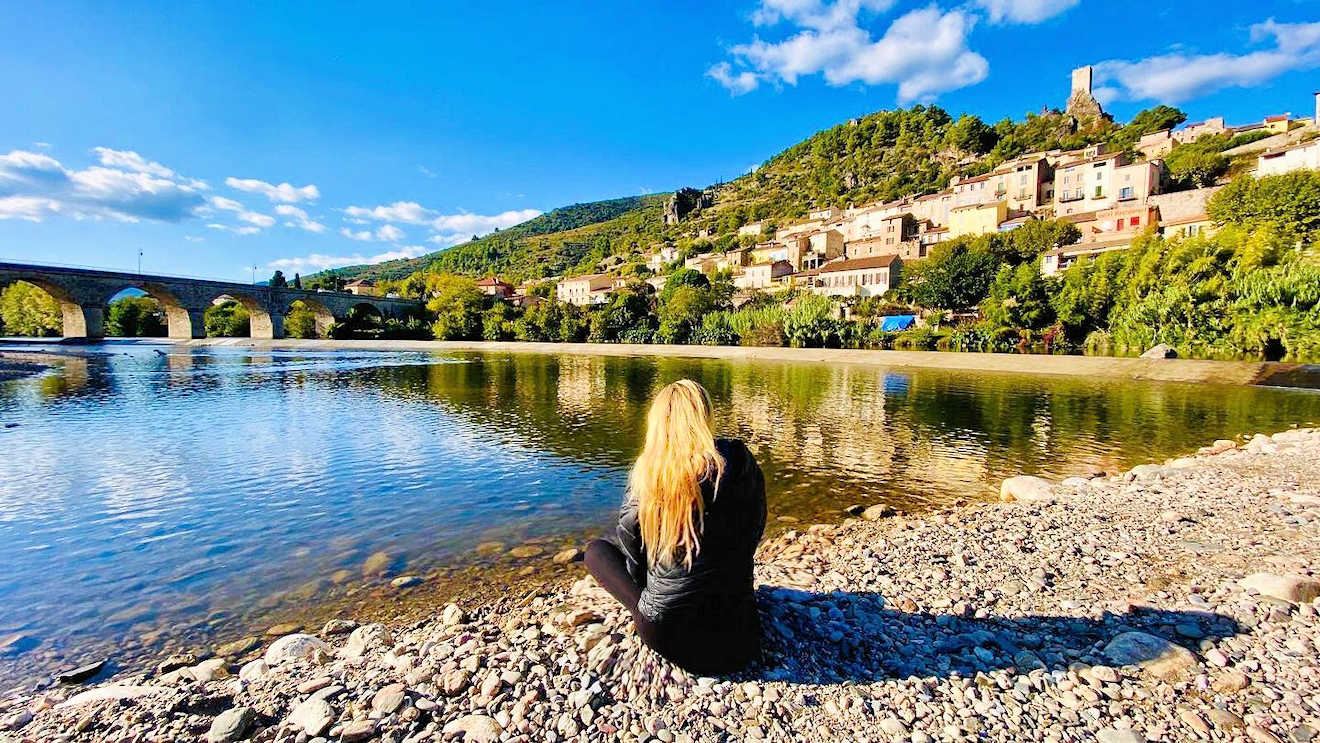 Roquebrun Haut Languedoc Regional Park
So in the Languedoc I recommend that clients base themselves around
Uzès - lovely market town and the gateway to the Cevennes region
Sommieres - another popular market town close to Montpellier
Pezenas - formerly the capital of the Languedoc region and one of the most beautiful towns in France
Marseillan - a coastal town on the Etang du Thau salt water lake
Lagrasse - a picturesque small town on the edge of the Corbieres hills
Narbonne - a former Roman garrison town, 10 km from the coast
Collioure - a beautiful coastal town close to the Spanish border
Mirepoix - a colourful market town, south of Carcassonne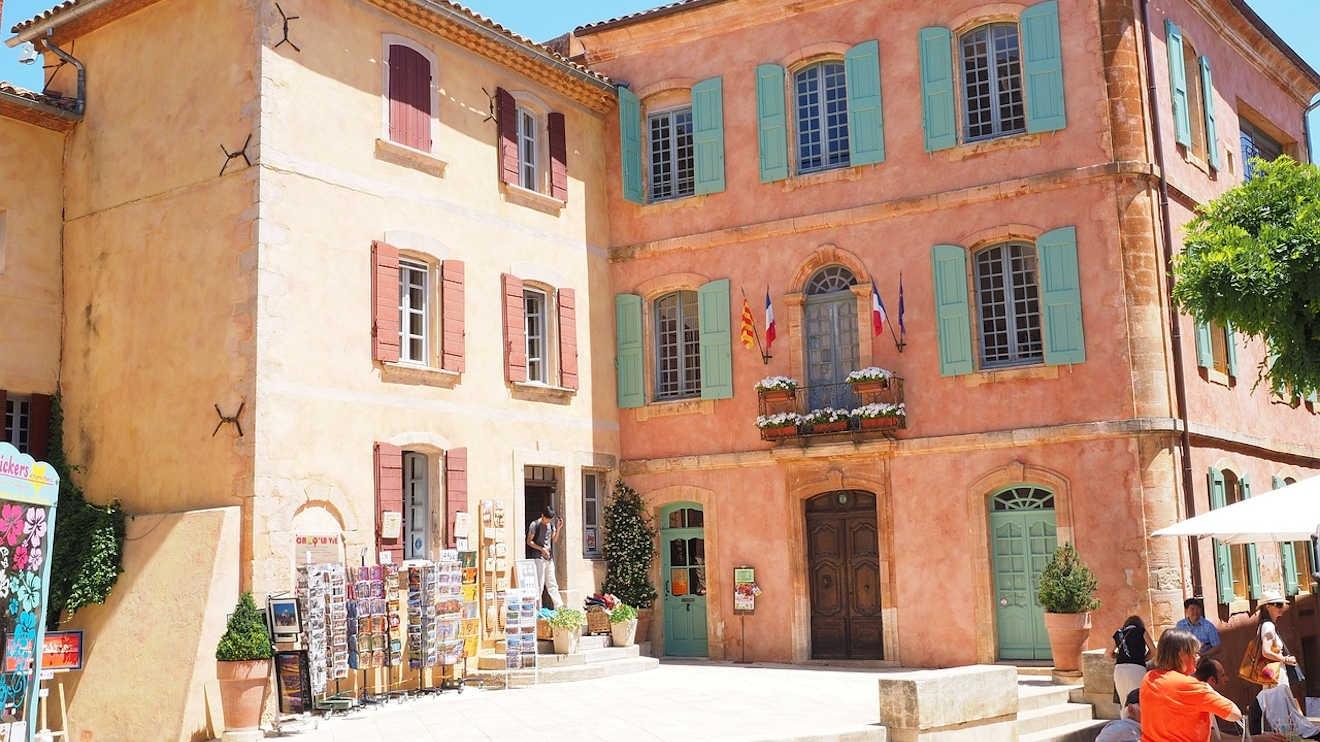 Roussillon Provence France
In Provence, you have:
Aix-en-Provence - a stunning university town with a TGV train station and close to Marseille airport
St-Remy-de-Provence - a market town with a population of 10,000 people and the birthplace of Nostradamus.
L'Isle-sur-Sorgue - a town of 20,000 people located close to Avignon.
Manosque - a bustling town located on the edge of the Luberon National park in Northern Provence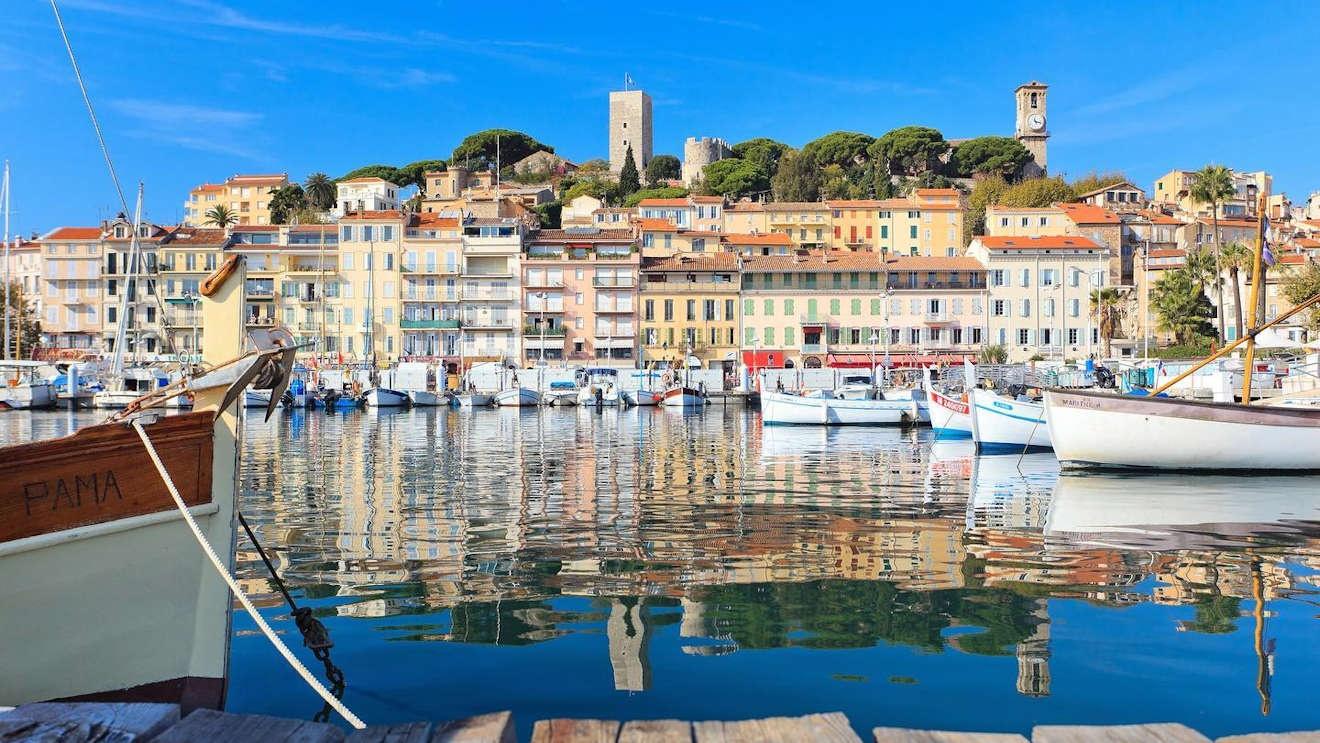 Cassis Cote d'Azur
In Cote d'Azur, in addition to the well known places such as Nice, Cannes, Antibes and the resorts along the French Riviera, I would also recommend these locations:
Mougins - a hilltop town close to Cannes. There is an excellent International School
Menton - a lovely coastal town located close to the Italian border
Vence - a medieval hilltop town
Grimaud - a hilltop village located close to St Tropez
Valbonne - a market town very handy for the nearby Sophia Antipolis technology park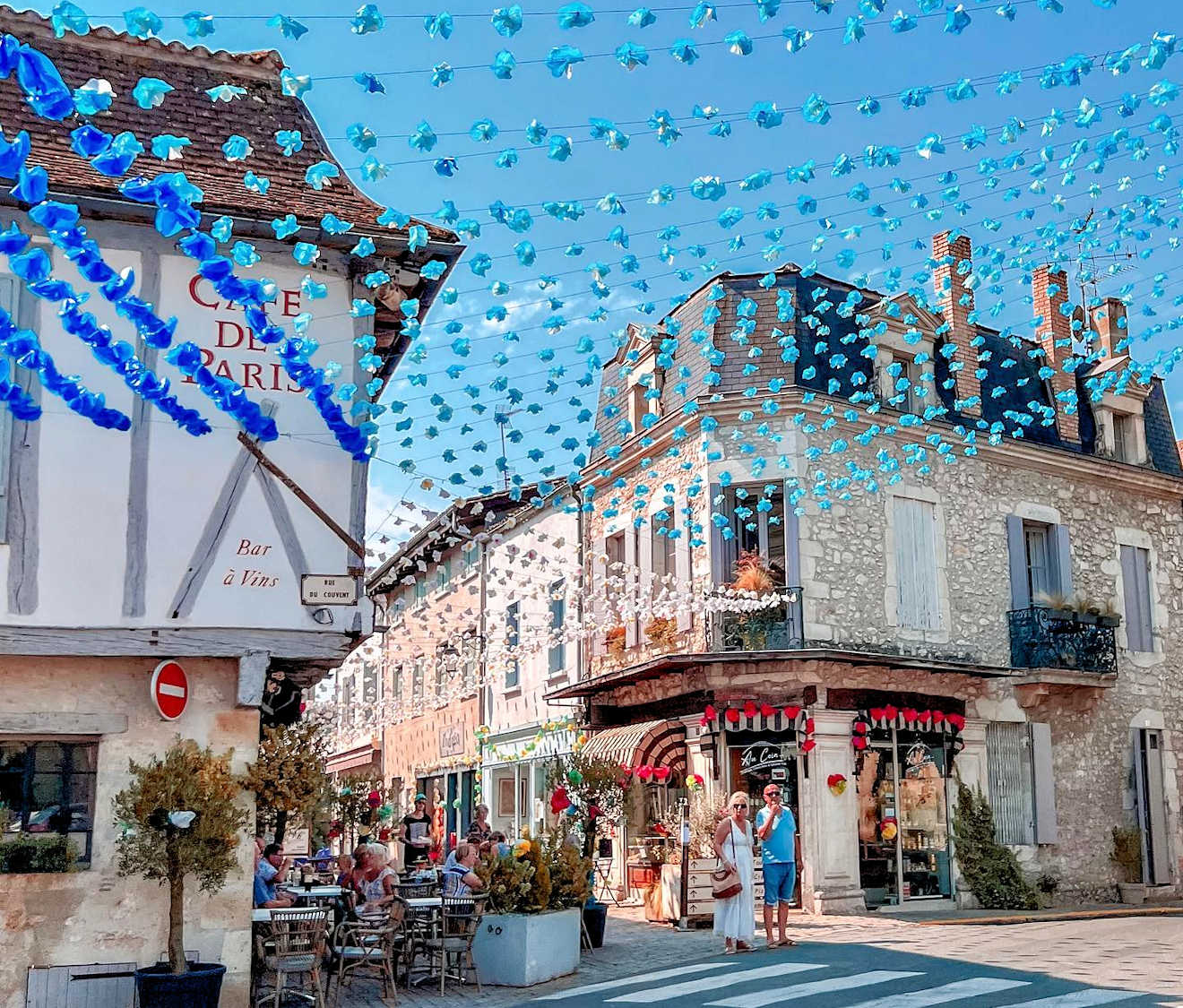 Eymet Dordogne France
In Dordogne, it can be quite difficult to find good sized towns to be based around. The department only has 4 towns with more than 10,000 inhabitants. So it is more likely that you will need to find a village within striking distance of a popular tourist site or town. So I would recommend searching out locations within 15-20 mins from:
Sarlat (or Sarlat-la-Canéda as it is formally known), a stunning medieval town located in the Dordogne river valley.
Cahors, the capital of the neighbouring Lot department, to the South of Dordogne
Périgueux, the capital of Dordogne, located in the north of the department
Bergerac, the famous wine town and also the location of the regional airport
Brantôme (or Brantôme en Périgord as it is formally known), a beautiful small town in the north of the department with a Benedictine Abbey
Domme, a stunning village in the Dordogne valley often regarded as one of the prettiest villages in France
Eymet, a pretty market town located in the south of Dordogne and popular with ex-Pat residents
What is included in the long term rental cost?
How and when are utilities charged ? What extras do you need to pay for: logs, linen, gas cylinders? Are local taxes included (especially the taxe d'habitation)? Ensure you are fully advised as to what exactly is included in your monthly rental and what is payable as an extra. In France there are two property taxes, (taxe d'habitacion and taxe fonciere - see French property taxes) make sure that the rental contract is clear about who pays for what. The Landlord should always pay the taxe fonciere, but the taxe d'habitation, which is a local community tax can be paid by either the tenant or landlord, depending on the duration of your stay. Usually if you are staying longer than 8 months, then you will be expected to pay this local tax (or at least contribute towards it).
What deposit is required for the long term rental and when?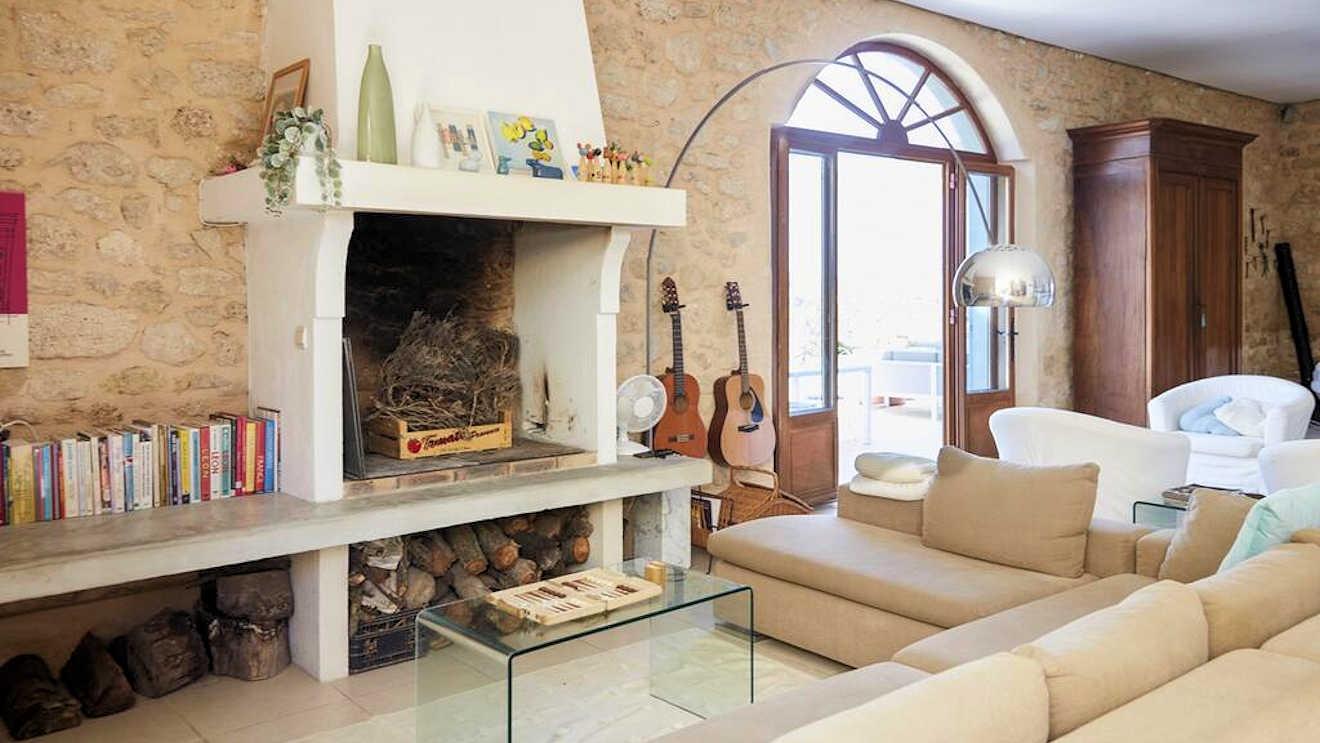 Ah, this is a real moot point with us. We rented a house long term in France for 14 months. Everything was sweetness and light until we came to move out and our Landlord turned into Dr Jackal. In particular be wary of clauses in the rental contract that call for you to "return the property back to the condition in which you found it" as this makes no allowance for wear and tear and you could find, like we did, that the most unbelievable deductions are taken out of your deposit. We almost ended up in court over the matter. Again you shouldn't find too many problems and most Landlords are reasonable people, but make sure you check through your long term rental contract thoroughly before signing it.
What to look for in a long term cottage rental in South France?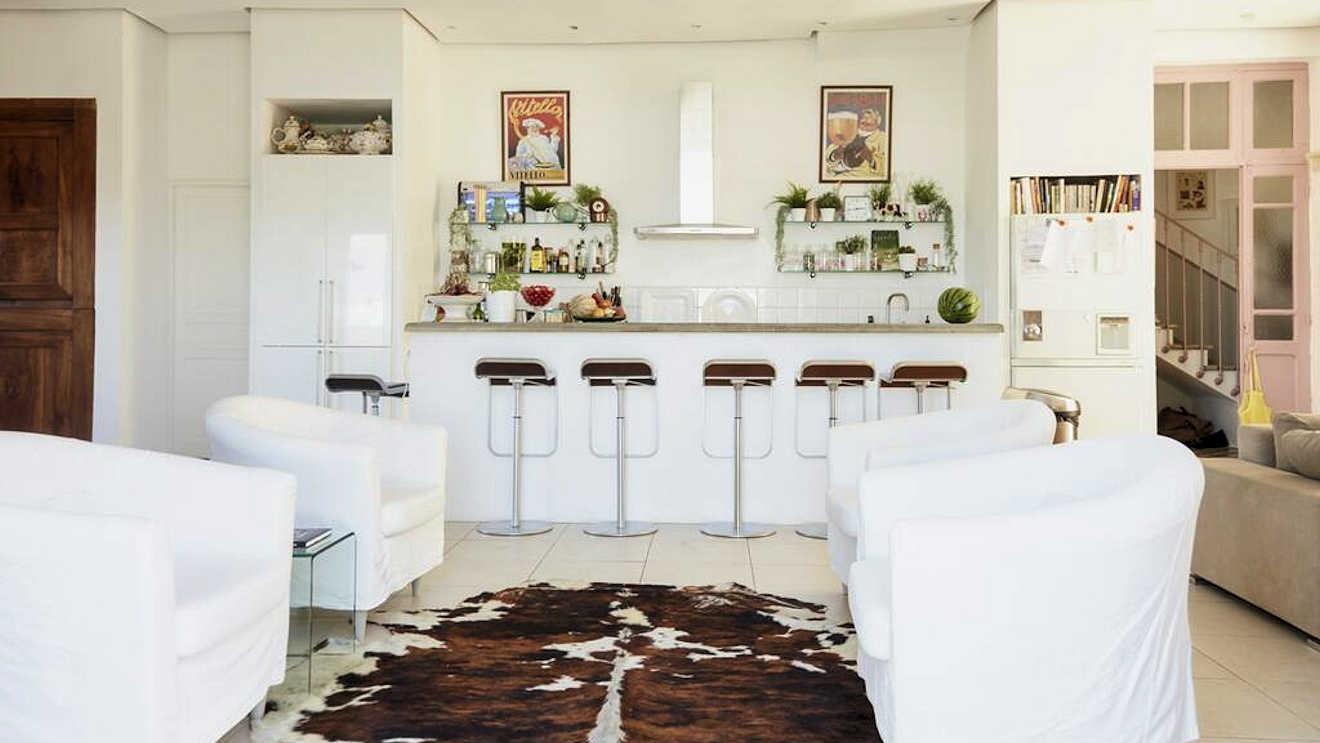 From our own experience, the key items to look for when considering a property for long term rental in South France are:
Proximity to local airports and motorway network
Good cooking facilities - the equipment has to be more than just what you need for a 2 week holiday
Large refrigerator/freezer
Washing machine/dryer and/or outdoor clothes drying space
Good Telephone & internet connection - at least 4G reception in village and +30mbps download speed
Indoor & outdoor seating
Close to a Supermarket
Car parking
Heating for winter - a decent heat source, not just electric wall radiators
Below we have selected 10 good cottages to rent in France over the winter period and for long rentals. If you have any specific requirements, please get in touch and we can suggest some alternative options for you based on our knowledge of the properties and the locations.
1. Rue du Porche cosy cottage to rent long term South France (Ref: 2114)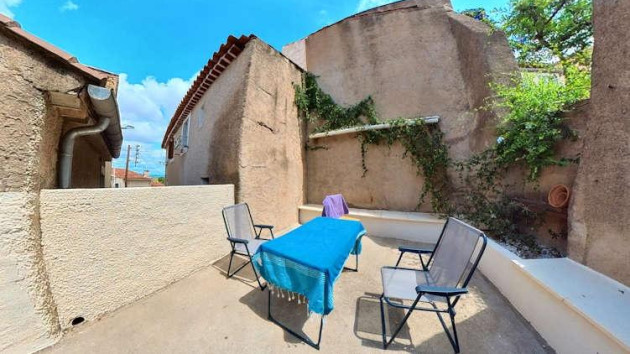 Rue du Porche is a cozy 18th century cottage located in the heart of the wine-making village of Servian. Servian is located just 10 minutes from Pezenas and 15 mins from Beziers. The Mediterranean beaches are just 20 mins drive.
The village of Servian has a good range of local services including a large supermarket, shops, restaurants, medical services and excellent sports facilities including an indoor swimming pool.
This 1 bedroom cottage is an ideal long term rental property for a single person or a couple. The cottage comes with a fabulous private roof terrace and a good sized living room.
The cottage contains:
1 bedroom
1 bathroom
Private roof terrace
Good-sized living room
Wi-Fi internet
Walking distance to shops, restaurants, cafes
This house is available to rent from September 2023 and the Owner will consider rental periods of 12 months+. The guide rental price is €550 per month + bills.
2. Cottage in Dordogne France for long term rentals sleeps 8 (Ref: 1502)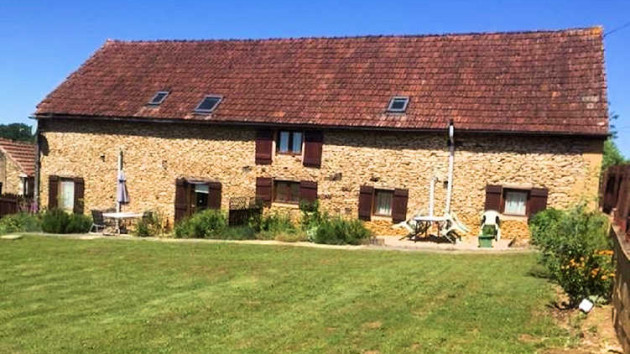 If you are house hunting in the Dordogne, France, then these properties for long term rentals are a great place to be based. There are two long term let properties located in a beautifully-restored old stone barn. Both barns come with 4 bedrooms and can sleep up to 8 people. The barns are comfortably furnished and benefit from UK TV, WiFi, a washing machine and plenty of outdoor space. Pets may also be accepted. The barns are situated in the small village of Fajoles, close to the Dordogne river and the beautiful villages of Domme, La Roque-Gageac and Sarlat. The property comes with:
4 bedrooms
2 bathrooms
Well-equipped kitchen + washing machine
Private parking
WiFi and flat screen TV
Large garden
Pet-friendly
Available for rental between October-April each year from €800 per month + bills. The Owner will accept pets through prior agreement. Minimum stay 3 months.
3. Tête à Tête - 2 bed house for rent Beziers France Ref: 2056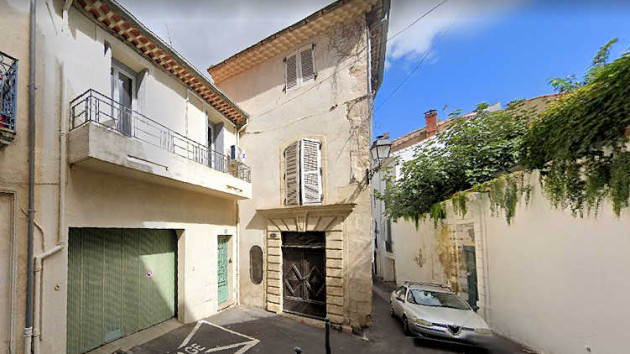 Tête à Tête is a lovely 2 bedroom house for rent in the centre of Beziers, South France. The house comes with its own private garage parking, a covered terrace, air conditioning, central heating and 2 bathrooms. The house is just 2 minutes walk into Beziers town centre, where you will find a wonderful array of shops, restaurants, pavement cafés and historical monuments. The house will ideally suit a couple and provides plenty of space for guests.
Beziers is conveniently located just 10 kms from the Mediterranean coast and has excellent transport connections (it has a TGV train station, international airport and 2 motorways running close-by).
The property comes with:
2 bedrooms
2 bathrooms
Courtyard terrace
Large garage (parking for 2 small cars)
Easy walking distance to shops and restaurants
This Beziers long term rental property is available to rent monthly from €900 pcm + bills. Higher prices will apply during the summer period.
4. Marseillan 2 bed house rent long term France by coast (Ref: 1799)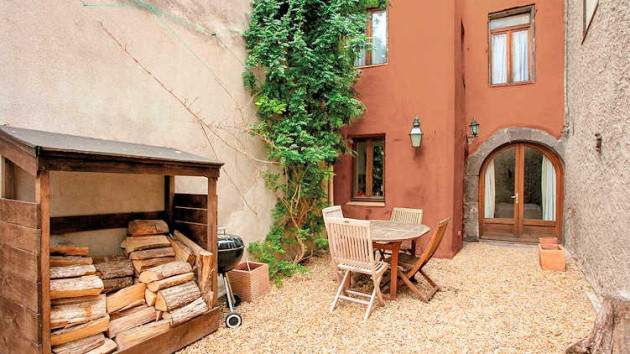 If you´re looking for a house to rent for 3-6 months, close to the coast and the beaches, then this house in Marseillan is an excellent choice. This 2 bed house for long term rent is located in the coastal town of Marseillan, South of France.
The house is laid out on 3 levels and has a sunny courtyard for eating al fresco. The house sleeps 4 people in 2 bedrooms and is within minutes of the shops, restaurants, harbour and bars of Marseillan. This long term rental property is conveniently located to explore the sites of the Languedoc region.
The house benefits from:
Fitted kitchen
Wood burner
2 bathrooms
2 double bedrooms
Private garden
This Marseillan house for can be rented on a long term let basis from €750 pcm + bills.
5. Carcassonne cottage to rent in France long term Ref: 1117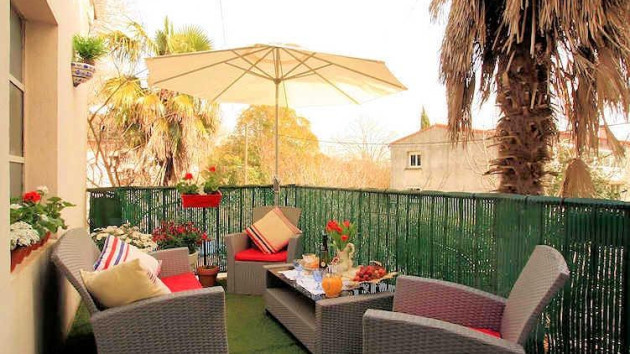 This cottage to rent in France long term is a beautiful refurbished 2 bedroom Cottage opposite the Canal du Midi in the centre of the city. The main railway station is 5 minutes walk and there are plenty of local restaurants, shops and services nearby. Carcassonne airport is just a short taxi ride. The cottage has its own private terrace and you can also sit on the canal bank with a baguette and a bottle of wine and watch the barges and little ducks go by.
The cottage is very handy for the airport at Carcassonne (20 mins drive) which features flights to the UK (Dublin, Brussels, London Stansted, Edinburgh Manchester, Nottingham and Leeds-Bradford). Carcassonne train station, with TGV services direct to Paris, is just 10 mins away.
The cottage contains:
2 bedrooms
Private terrace
Parking
Fully-fitted kitchen
WiFi and TV
This Carcassonne cottage, France, is available for long term rentals from €900 per month + bills. The cottage can be rented from 3 to 6 months between October to May.
6. Payrac long term rental Lot, France near Sarlat and Rocamadour Ref: 2047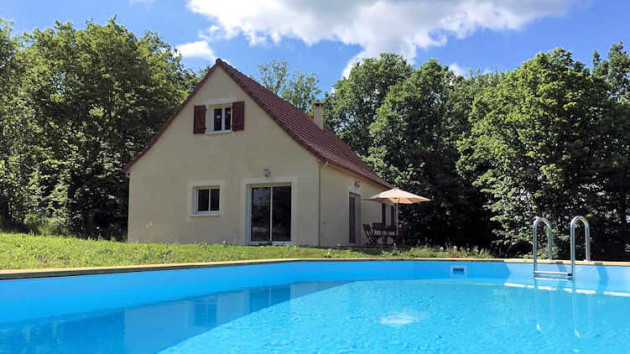 This beautifully situated 2 bedroom long term rental property in Lot, South West France, is conveniently located between the popular sites of Sarlat and Rocamadour. The house was built in 2019 and features a gorgeous master bedroom with breathtaking views over the village of Payrac. Start you day listening to the birds and enjoying a morning sunrise and cup of local French coffee from the comfort of your cosy double bed.
The property provides:
2 bedrooms
1 bathrooms
Well-equipped kitchen
Private parking
Swimming pool
Beautiful views
WiFi and flat screen TV
Countryside setting setting
Enclosed outdoor area suitable for pets
This is a great opportunity to rent a comfortable property is a beautiful part of rural France. Located close to the popular sites of Sarlat and Rocamadour, the house is perfectly situated for exploring this stunning part of France.
Available for long term rentals between October to April from €800 per month + bills.
7. Stone Cottage near Limoges long term rentals France (Ref: 1946)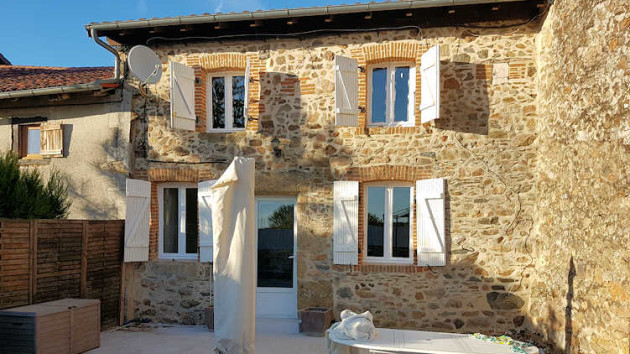 This Stone cottage near Limoges, France, is available for long term rentals from €600 per month + bills. The cottage can be rented from 3 to 12 months. The cottage is located in the small village of Nouaillas, close to Chateau Rochechouart in the Haute Vienne department. Haute Vienne is located just North of Dordogne and East of Charente. The popular town of Limoges is just 25 mins drive and features a lovely old town centre. Limoges was recently voted the 4th best place to live in France and was nominated as the best French city to retire to.
The cottage is very handy for the airport at Limoges (20 mins drive) which features flights to the UK (London Stansted, Manchester, Nottingham and Leeds-Bradford). Limoges train station, with TGV services direct to Paris, is just 25 mins away.
The property is ideal for a couple or a small family for an extended winter holiday or house-hunting trip. The cottage comes with:.
Spacious living room
Well-equipped kitchen
Parking
Walled garden
1 bedroom
1 bathroom
Wi-Fi
The apartment can be rented from 6-12 months. The Owner may accept one small dog, through prior agreement.
8. Barn conversion for long term rentals Loire Valley France (Ref: 2022)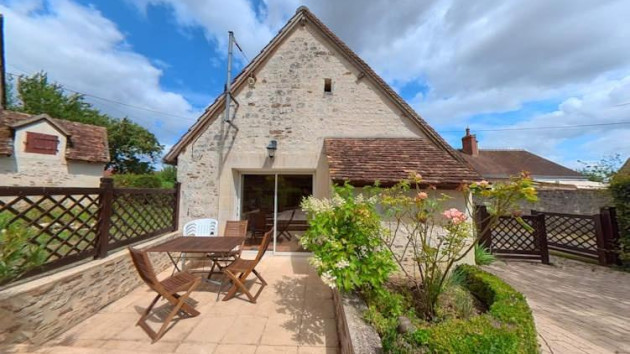 This lovely barn conversion in the Loire Valley, is the perfect accommodation for a family looking to move over to France for a year, or for a couple on a house-hunting trip. The local area is quiet and peaceful and provides some of the best-value property prices in France.
This lovely barn conversion located in the picturesque Loire Valley in central France, is available for long term rentals from 3 to 12 months.
This long term rental property comes with:
3 bedrooms
2 bathrooms
Terrace and garden
Fully fitted cottage-style kitchen
Beautiful lounge with working fireplace.
This charming French cottage for long term rentals in the Loire Valley, France, is available to rent on a monthly basis from €800 per month + bills.
9. Caunes-Minervois pet-friendly house long term rental France (Ref: 2104)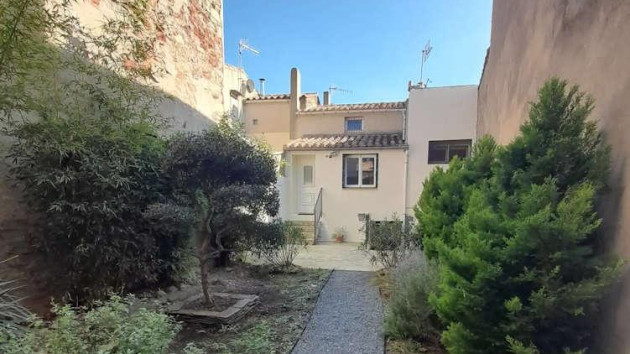 This cosy home with private patio and garden is located centrally in the gorgeous medieval village of Caunes Minervois. This is the perfect space to spend a relaxing year in the South of France.
This pet-friendly rental comes with an enclosed courtyard garden, so is ideal for customers with a dog or cat. There are some beautiful walks surrounding the village. Although Caunes-Minervois is a small town, it does come with the essential amenities and there is a bit of life going on throughout the year.
The house is laid out over 3 floors and comes with a double bedroom with en-suite bathroom, well-equipped kitchen, spacious living room and a private enclosed garden.
Caunes-Minervois is a very popular medieval town located 25 minutes North of Carcassonne. The town has a large art community and has a population of 1600 people.
1 bedroom
1 bathroom
Private garden
Well-equipped kitchen
Utility room with washing machine
Easy walking distance to shops, bars, restaurants and the weekly market
This property in Caunes-Minervois near Carcassonne is available for monthly rentals from €600 + bills.
10. Murviel les Beziers cottage long term lets in South of France (Ref: 1893)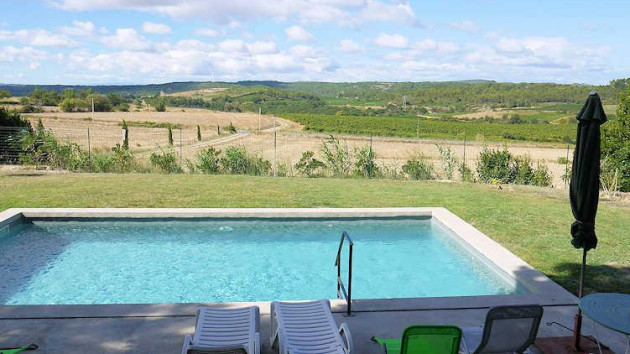 This spacious long term lets property in South France is located in a quiet rural area with stunning views of the mountain ranges of the Haut Languedoc. The area is surrounded by vineyards and countryside as far as the eye can see. The house is situated about 12 km north of Béziers and 2 km from the village Murviel-les-Béziers. This restored barn was formerly part of an active vineyard and oozes charm throughout. It sleeps up to 6 comfortably in its 3 bedrooms.
The village is situated on the edge of the Black mountains in Languedoc, 15 minutes from Beziers and the coast. The cottage is surrounded by vineyards and rolling hills, with views of the mountains in the distance.
Beziers provide all the amenities that you will need and the Mediterranean beaches are just 25mins drive away. If you are house hunting in the South of France or coming for a long stay, then this cottage for long term rentals is a good option. Convenient for a couple or a small family, the house has everything that you will need for a long term rental in France. This is a good choice if you are looking to sample rural South of France life.
Thinking of spending some time in France . . . ?
If you are thinking of planning a long stay in France during 2024, but you are hesitating about taking the plunge - don't worry! We can help you find the right property to rent, as well as introduce you to some excellent relocation experts that can help you with French bureaucracy, enrolling in schools and taking care of your tax liabilities. For further information please see:
Contact Iain by Email if you have any particular questions you would like to ask about living in the South of France.